Joden Girl
Baubles, Bling, and Birthstone Things
For the third gift of Christmas, it's all about birthstones – that special stone corresponding to the month you were born. There are various lists out there and alternate choices for some months, however, this one seems to be generally accepted: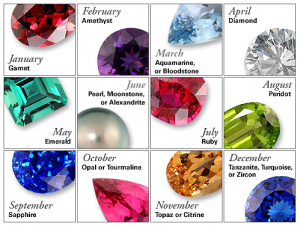 Did you know that more babies are born in August than any other month? It's true; making peridot the most common birthstone. The peridot jewelry made during the Art Nouveau period was anything BUT common. Check out this exceptional example from the late 1890's.  Originally available for $4500, it is now a featured Pick of the Week and has been price adjusted to just $3,650.00.  It's an Art Nouveau must!
September boasts the second highest number of births – making sapphire quite a popular birthstone as well. These Edwardian earrings appeal to my love of converted jewelry.  Once, they were graced the cuffs of a gentleman's shirt, now they are a fantastic pair of earrings featuring intricate patterns of engraving and two tiny cabochon sapphires. Yours for just $400!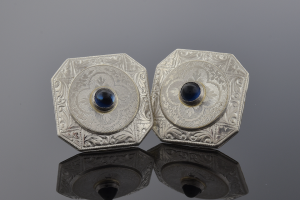 Rounding out the top three most popular birth months is July – giving us lots of ruby babies. At Joden we offer a wide selection of Victorian rings…  these five are among the cream of the crop. Each of them is in pristine condition utilizing seed pearls and diamonds to enhance their ruby centers. These rings are all available in our showroom; priced between $600-$1900 each. Take one home today!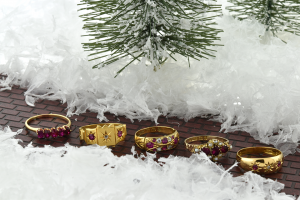 Whatever your birthstone may be, Joden is THE place to find your perfect birthstone piece.
Go to our site and look, or come to Joden and touch.
Written by Carrie Martin
Photos by Shelly Isacco