Joden Girl
Baubles, Bling, Gifts and Things
Every year I vow that I will start Christmas shopping early.  I promise myself (and my husband) that I'll get a head start and that I won't go overboard.  And every year I find myself still picking up last minute gifts on Christmas Eve.  And when I drag all the bags, boxes, and packages out to begin the midnight wrap-a-thon…  there's no doubt that I have, indeed, gone overboard.  Again.  
This is going to be my year!  It's only October and I have already purchased five presents!  That's right – FIVE!  I can hardly believe it myself.  This can be your year, too.  For the next twelve weeks, I am going to share a series of gift worthy pieces, starting with this gorgeous diamond band.  Stay tuned each week, and check those names off your list with exclusive gifts from Joden.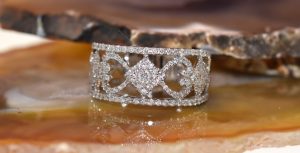 An openwork pattern of alternating sideways hearts and diamonds come together in this band ring. Made of 14 karat white gold, this glittering gem features 121 round brilliant diamonds.  It sparkles from every angle.  I love it on my index or middle finger – but it works just as well on a ring finger or even a thumb. And here's the best part (you might want to sit down for this)…  it's available now for just $700!  It's a big look for a budget price.  But we only have one – so don't hesitate.  Come in, call me, text me, or send an email – buy this ring.  It the perfect gift for someone on your list, even if that someone is you.  Stay tuned for next week's early bird special!
"You can go to a museum and look, or come to Joden and touch."
Writing and Photos by Carrie Martin