Joden Girl
Dragonflies, Florals and Earthly Things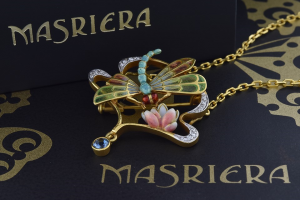 "Every piece that comes out of workshops is intended to be an artistic expression stemming from the essence of our culture.
A culture with the Mediterranean as its backdrop. We seek perfection in everything we do and create our pieces, always under the rubric of their contemporary style. A philosophy borne out of our workshops, passed down from generation to generation that has continued up until today."
These words have been taken directly from the Masriera site and highlight all that is desirable about their extraordinary jewels.  The name "Masriera" has become synonymous with exquisite craftsmanship and breathtaking creations that harken back to the late 19th century when Art Nouveau style reigned supreme.
One of the shorter periods in jewelry history, Art Nouveau began around 1890 and continued on for the next twenty years.  It was a celebration of the female form and all things found in nature – flowers, vines, insects, serpents, and leaves.  High karat yellow gold with a matte finish was often the backdrop for multicolored enamels, giving the pieces lifelike appeal.  Rene Lalique, Louis Comfort Tiffany, and Lluis Masriera were connoisseurs of the craft.
At Joden, we have a handful of these whimsical wonders.  I love the delicacy of this sweet bee ring.  A rich purple amethyst and a tiny diamond make up the body of the insect while the wings are made from black and opalescent white plique a jour enameling.  It sits perfectly on the finger…  now just $1000.
The next tempting treat is a pendant/brooch combination.  A brightly colored dragonfly sips the nectar from the lotus blossom…  simply charming!  The chain is easily removed from the piece to convert it to a brooch.  This engaging enchantress is available on our site – $5000.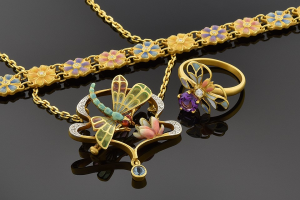 Finally, we have my favorite piece – a daisy chain style bracelet.  The buttery 18 karat yellow gold has a wonderful bisque finish that is the perfect compliment to the pastel colored enamel of each flower…  yellow, lavender, pink, and blue.  Each of the seventeen blossoms has a round brilliant diamond center.  It's a happy bracelet – I smile every time I look at it.  Please call for additional details.
In the hustle and bustle of today's world, it's rare to find a company that honors their old world heritage with superior craftsmanship and a faithful expression of quality.  Over 178 years later, and Masriera is still doing it right.
Each piece is individually numbered and is accompanied by a certificate of authenticity and the original trademarked Masriera packaging.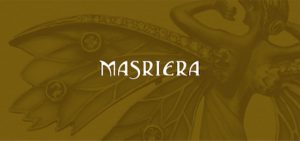 Don't forget to sign up for our newsletter and have Joden Girl delivered straight to your inbox each week!
Written by Carrie Martin
Photos by Shelly Isacco