Joden Girl
Baubles, Bling, and A Collector's Things
This week's edition of Joe's Special Box is so EXTRA!  Not only were these two beauties hand-selected by Joe, they were also among the "Top Ten of the Best Rings Available at Joden"!  In August, we collaborated with the hottest jewelry blogger in America, Danielle Miele.  She is the author of Gem Gossip – a spirited dialogue featuring the best of the best in fine jewelry.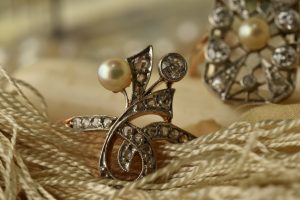 Danielle got a first hand glimpse at the treasure trove that is Joe's Special Box.  Concentrating only on rings, she selected ten beauties!  These two feel like they belong together…  let's check out this charmer.  An Edwardian dream, this freeform ring features 28 rose cut diamonds and a singular natural pearl.  It's elegance with a bit of flair.  Moderately priced at $1300, we couldn't resist it and neither should you!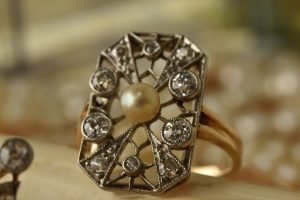 Speaking of Edwardian elegance…  I mean, HELLO!  A spiderweb of filigree creates a haven for a series of six bezel set Old European Cut diamonds.  Additionally, there are four more diamonds set into the triangular shaped corner embellishment.  One delightfully creamy pearl sits center stage – caught in the web of this bold ring.  I love it on an index or middle finger – it's a perfect right hand ring for only $3450.00.
Go give Danielle some love and then visit us at Joden where the choices are only limited by your imagination.
Written by Carrie Martin
Photos by Dana Jerpe