Joden Girl
Baubles, Bling and Rare Things
Nothing says classic elegance like a strand of pearls.  Whether they are choker length or opera length, these lustrous orbs have captivated jewelry lovers for hundreds of years.  Found within oysters, this jewel forms when an irritant gets trapped inside the shell.  This causes the mollusk to secrete a fluid that coats the irritant, thus protecting the creature itself.  Pearls are one of the most beloved and versatile of gemstones.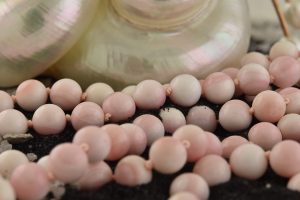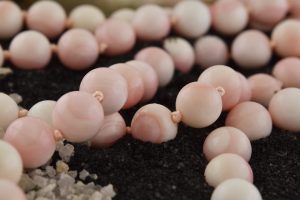 A lesser known and more rare jewel of the ocean forms inside an entirely different shell.  These unique gems are aptly named for the shell in which they are found, they're called conch pearls.  Large sea snails called queen conchs have a beautifully spiral shaped shell…  a haven that occasionally produces a rare pink pearl.  These calcareous concretions have been discovered in various shades of white, yellow, brown and the most desirable…  pink.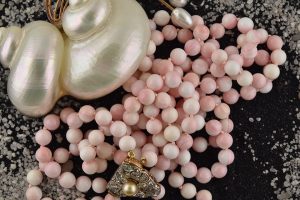 Because these pearls are formed naturally, with no outside interference, their shape is often irregular.  Round conch pearls are extremely rare.  Collecting one hundred and seventy-eight perfectly round and beautifully matched conch pearls to create this double strand was quite a feat.  Mottled shades of pale pink to a vibrant bubblegum hue, these pearls are strung in two rows joined with an equally lovely clasp.  Made in true Edwardian style this 18 karat yellow gold and platinum catch features twenty-nine rose cut diamonds.  These twinkling gems have a combined weight of approximately .28 carat.  One small golden pearl crowns the clasp.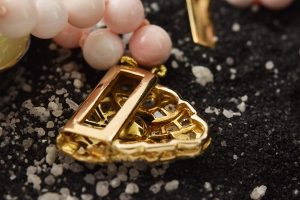 Accompanied by a report from the International Gemological Institute of America certifying that they are, in fact, natural conch pearls.  It gives a detailed and completely factual description including a photo.  This extraordinary necklace is priced at $8,500.00 and is available exclusively at Joden Jewelers.  
"You can go to a museum and look or come to us and touch."
Written by Carrie Martin
Photos by Dana Jerpe