Joden Girl
Baubles, Bling, and Special Things
It all started with a little cardboard box.  It was stored in the left-hand cabinet of Joe's desk.  Written on the lid (in Joe's chicken-scratch style printing) were the words "Joe's Special Box".  What those words really meant was – "For Joe's Eyes Only"  Occasionally, you might glimpse a piece before it disappeared into the box – I can remember one in particular:  a dainty platinum Art Deco ring with a pair of half moon diamonds in the center.  The next time I saw the ring, it was on the pinky finger of Joe's daughter, Sara.  You see, "Joe's Special Box" was filled with a cache of riches that he was saving for Sara. 
Over the last few years, the box has grown.  Actually, it's now three boxes.  Some of the pieces inside are labeled "For Natalie" – Joe's granddaughter.  However, many of these exceptional examples (like the ones shown here) aren't labeled at all, which means they're available for purchase!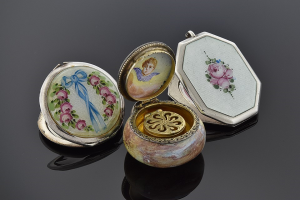 Each of the three pieces in this photo are carefully crafted from fine sterling silver and enamel…  dated just before and just after the turn of the 20th century. 
Both of these vintage lockets feature a pattern of soft pink roses on a white guilloche enameled background.  Guilloche is a unique type of enamel in which the metal is first hand carved with a repetitious pattern where upon layers of colored ground glass beads are then baked – this allows the underlying engraving to show through the enamel creating tiers of dimension and beauty.  Available on our site for just $450.00 each…  add photos or mementos to create your own heirloom.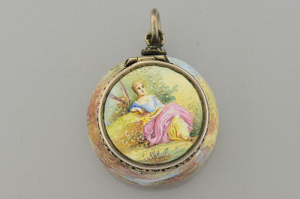 This lovely piece looks like a locket, but is actually a vinaigrette – a trinket specially created to hold a perfumed piece of cotton inside.  Ladies held it to their nose while out and about to prevent the odors of the streets from permeating their delicate senses.  It highlights a lady of leisure on the lid, enjoying the foliage of a Victorian garden while the scene on the back depicts a pair of lovers also luxuriating in a lush garden. 
Next time you're at Joden, ask about Joe's Special Box and the treasure-trove of riches hidden inside…
"Go to our site and look, then come to Joden and touch."
Don't forget to subscribe to our newsletter to have Joden Girl delivered straight to your inbox.
Written by Carrie Martin
Photos by Shelly Isacco