Joden Girl
Baubles, Bling and Insider Information
"If you love what you do, you'll never work a day in your life."  This is just one of the quotes that comes to mind when I describe my boss, the owner and founder of Joden Jewelers.  For more than fifty-two years, he has looked forward to coming to work…  six days a week.  He rarely takes a day off.  He tackles each day armed with little more than a hot cup of coffee and a telephone.  Joe Murawski has slowly but surely transformed his once-fledgling small-town jewelry store into the internationally recognized powerhouse that it is today.  

On March 13, 1970, best friends and partners Joe and Denny combined forces (and their names) to open Joden Jewelers at 230 South Broad Street, downtown Grove City.  The grand opening was promoted with the catchphrase "Make Friday the 13th your lucky day at Joden Jewelers!"  The young duo had purchased the former Royal Jewelers from Charlie and Marion Hall.  This new enterprise wasn't merely a whim.  Joe was no stranger to the business; he grew up on his father Adam's knee at the bench.  At just ten years old, Joe was already mastering the arts of soldering and sand-casting.  In fact, it was his father's unwavering support that gave Joe the courage to to chase his dreams.
Joden Jewelers wasn't his first risky adventure.  As a star high school athlete in both gymnastics and football, Joe had garnered several scholarship offers from more than one prestigious college.  His sensible side was certain that he should accept one of those offers and study to become a physical education director for the YMCA.  But deep inside another voice was whispering something altogether different.  At the last minute, the daring high school graduate jumped into his car and headed to the west coast where he enrolled in the Gemological Institute of America.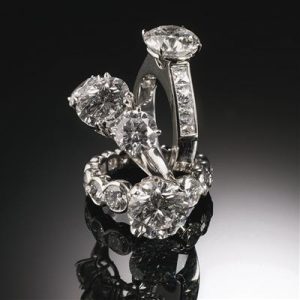 Equipped with his shiny new degree and a few years' worth of bench experience, Joe and his business partner Dennis were the newest and perhaps youngest store owners in Grove City.  With gold at $35/ounce and a new car costing about $3500 – these enterprising young men needed to sell A LOT of watch batteries and diamond rings to make a living.  Over the next four or five years, Joden Jewelers sputtered along but had yet to take off.  Joe and Denny were big on dreams but low on funds.  They owed money to multiple suppliers and were slow to pay off that debt.  Something had to give.  Now a husband and father, Joe was hungry for success and sought the advice of one of those suppliers… a man by the name of Aaron Saltzman.  
After a lengthy conversation and a thorough evaluation of the business, Aaron offered two very different options…  either tune it way up or way down.  The store could not survive by simply limping along.  Aaron suggested that Joe and Dennis should either file for bankruptcy or dissolve the partnership.  Joden Jewelers was not able to financially support two households.  Not yet willing to give up on his dream, Joe opted to buy Denny out; he became the sole owner and moved the business to 144 South Broad Street.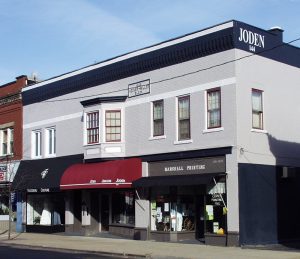 Aaron's continued advice breathed new life into both Joe and his store.  As a mentor, Aaron insisted that Joe call him every day, six days a week for twenty minutes at a time for the next twenty-five years.  Those lessons included a broad range of information; they ranged from "What are the different kinds of sapphires?"  to "How do you promote the company without money?"  It was no longer a simple supplier/buyer relationship.  Aaron had become a mentor, advisor and friend.  Little by little, the store began to chug forward.  
Twelve short years later on May 1, 1986, Joe bought Aaron's company.  Now, he had both Joden Jewelers (a retail store) and World Resources (a wholesale company).  Next, he hired Aaron as a buyer for both… and still those twenty minute lessons continued.  As the lessons progressed, so did the company.  Together, they made trips to England to buy goods.  They attended jewelry shows both to buy and sell goods.  It was during these times that Joe learned the most important business lesson of all…  the power of the inventory compels one to do more business.  Those words are still the driving force of the company.  Today, we have one of the largest collections of true antique jewelry between Chicago and New York.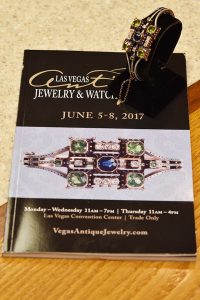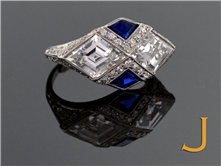 Perhaps it was the 20-minute lessons with Aaron that fostered a love of teaching in Joe.  Now, it's the very thing he most enjoys doing.  By imparting his knowledge and hard-earned business wisdom with other jewelers, his employees (like me) and most importantly, his son Jay… the student did, in fact, become the teacher.  After a short-lived stint in college and several unfulfilling career attempts, in 1996 Jay decided to give the family business a try. Twenty-six years later, Joe and Jay are much more than father and son, they're an unbeatable team.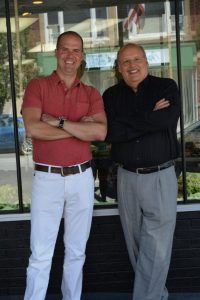 Over the past fifty-two years, Joe has held countless pieces of jewelry in his hands.  Experience and exposure have opened his palette.  In fact, he struggled to pinpoint a single favorite and least favorite piece.  When pressed, Joe cited his collection of the works of Carlo Giuliano as his favorite, with the enamels taking top marks.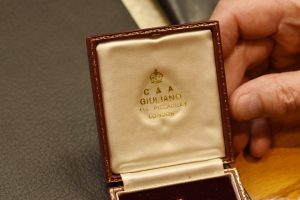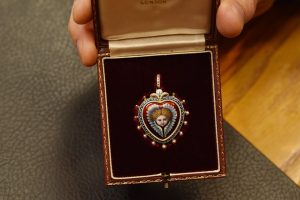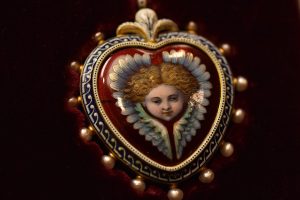 Coming in at a close second are the pieces that Joe designed and Steve Becker created…  those stellar creations that have earned national awards.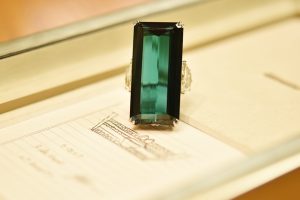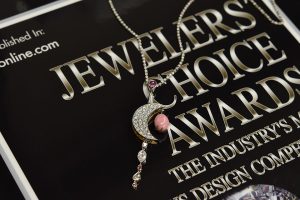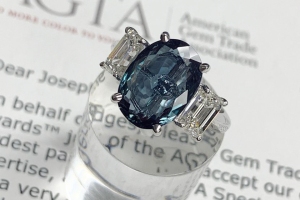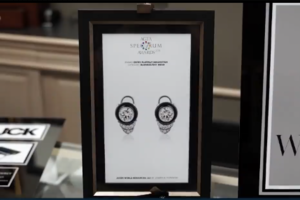 I insisted that he name a least favorite.  After much contemplation, first Joe reluctantly suggested costume jewelry.  And then a bit later, he stated that perhaps it's the 1970's gold nugget jewelry that he finds least attractive.  Having worked for and with Joe for all these years, I would argue that he wrinkles his nose at mass-produced, ordinary and unimaginative jewelry.  When he encounters such a piece, inevitably his response is…  "I hate it!".  
Finally, I questioned Joe about his plans for the future of the company, he began by saying that he will never retire.  As long as he is able, he will come to work.  Beyond that, his greatest wish is that one or both of his grandchildren would join the business…  his legacy would be complete.  In closing, Joe leaned back in his chair and credited all of his success to his wife, Deb…  "without her, none of this would have been possible."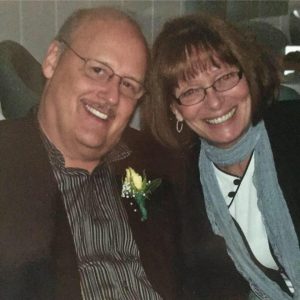 "You can go to a museum and look, or come to us and touch."
Written by Carrie Martin
Photos by Dana Jerpe and others