Joden Girl
Baubles, Bling, and A Collector's Things
I love seeing this.  A tray of new purchases on the corner of Joe's desk.  It's a treasure hunt for gold, diamonds, and gemstones.  I never know what I'll find…  but there's always something that catches my eye.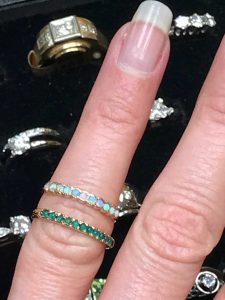 And there it is… a pair of delicate antique bands – one featuring a row of collet-set round opals and the other is a line of bright green cabochon stones.  These little cuties are perfect for stacking.  That thought sent me straight to Joe's Special Box.  I remembered another gem hiding there.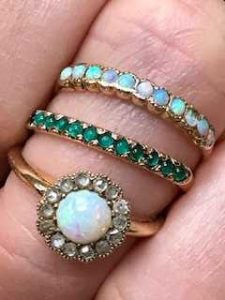 Get an eyeful of this sweet Victorian beauty.  A vintage halo of fourteen rose-cut diamonds surround a cabochon opal center.  Like most rings from the late 1800's, the gold setting has a slight rosy hue, it's the perfect complement to the flashes of green and pink in the opal.  I love the primitive faceting of a rose cut diamond…  like snowflakes, no two are alike.  Opal (the October birthstone) displays a phenomenon of nature commonly referred to as "play of color".  As you move the stone around, flashes of light and color come back to the eye – it's mesmerizing.  
This ring is in Joe's Special Box and is available now for $975.00.  As for the pair of bands, they're destined for restoration in our shop.  Our in-house facility boasts state-of-the-art tools and equipment as well as two master benchman.  Like all new acquisitions, these bands will be carefully evaluated and repaired before making their way to our showroom, or perhaps even into Joe's Special Box.
Writing and Photos by Carrie Martin
"You can go to a museum and look, or come to Joden and touch."