Joden Girl
Baubles, Bling and Art Deco Things
Edwardian or Art Deco?  The answer is a little of both…  measuring 7.25 inches, this crossover bracelet is absolutely amazing!  Articulated links alternate – first, a diamond encrusted open-centered oval and then an elongated link featuring a honey-comb pattern.  A push clasp hides seamlessly within the last link, creating an endless display of brilliance around the wrist.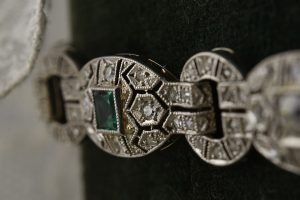 A wisp of color pops from the middle of four segments…  natural square-cut emeralds.  These bright beauties have a combined weight of 1.00 carat and draw the eye, adding yet another layer of dimension to this gem.  Crafted somewhere between 1918-1920, this late Edwardian or early Art Deco bracelet has enchanted me.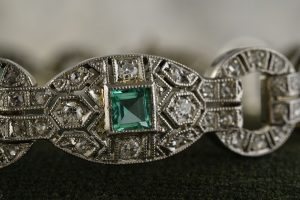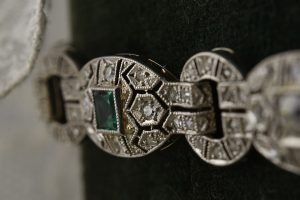 The curved lines and lace-like appearance of the very early 1900's combine with the geometric, symmetrical style of the following decade.  The Edwardian Era (1901-1910) heavily influenced Art Deco design – jewelry from both eras was predominately platinum.  It was the metal of choice due to it's strength, lasting luster, and malleability.  Hand-set with diamonds, each individual setting is lined with tiny beads – a technique called milgrain.  Yet another commonality between the two periods.  
There are one hundred and eighty old cut diamonds enveloping the entire length of the piece.  Each one is bead set with a total weight of 2.25 carats.  Art Deco emerged in 1925, although pieces can be found as early as 1920.  Though it can be difficult to determine the exact age of a piece, the quality of fine period jewelry speaks for itself.  No artistic movement since Art Deco has so completely captivated the world.  The creativity and spirit of the period continues to endure.  Own this iconic piece of arm candy for just $8,800.00.
Call today to purchase.  1-800-747-7552
Written by Carrie Martin
Photos by Dana Jerpe