Joden Girl
Baubles, Bling and Insider Information
Born Andrea Caroline in 1975, I have answered to many names but rarely my birth name.  My family has called me Carrie all my life and I have since accumulated multiple titles…  daughter, sister, friend, wife and mother.  Someday I hope to add grandma to that list. 
This is my second time around at Joden Jewelers – collectively, I have worked for the company for over twenty years.  In all that time, no two days are ever the same.  That's one of the most unique aspects of working here.  One day I might answer 150 emails and 20 phone calls and the next day could find me sifting through a recently acquired estate of antique jewelry…  quite literally digging for treasures.  It's impossible to be bored when you never know what is going to happen from one day to the next.
I don't have a favorite piece…  more like a favorite theme.  I love floral pieces, especially daisies.  Vintage or new, silver or gold – I am a sucker for jewelry that features flowers.  By definition, Art Nouveau is the celebration of the woman in nature.  It's my favorite period.  The simple beauty of the curving gold lines paired with enameled figures and flowers is enchanting.  In the pictures shown here, you can see a few pieces from my personal collection.  Just for fun, I had Dana add one of my LEAST favorite items at Joden into the collage.  Can you guess which one it is?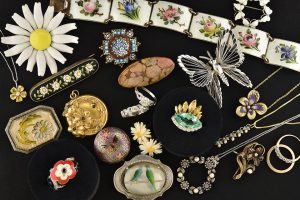 My biggest accomplishment during the time I have been with the company is the collaborative efforts of Dana and I on our social media presence; that includes all things Facebook, Instagram, the website and this blog.  This edition marks the 508th blog that I have written.  It has definitely been a journey filled with some extremely high highs and some lows as well.  For every time I have struggled to find words there is also a celebratory moment with Dana over an internet sale.  It is a source of great  pride and real accomplishment for me.  
Another thing that I love doing is designing new pieces of conversion jewelry, including this most recent addition.  Last Saturday I found the sweetest Victorian circle pin.  With a 14-karat yellow gold base and a silver top, the delicate daisy wreath appealed to me on almost every level.  The simple ring of rose-cut diamond accented flowers, dainty leaves and pearl adornments was perfect, except that it was a pin.  Looking for an ideal complement for the daisy brooch had me digging through four trays of stick pins.  Finally, I had a "Eureka" moment!  After a quick consultation, our bench jeweler Debbie made conversion magic…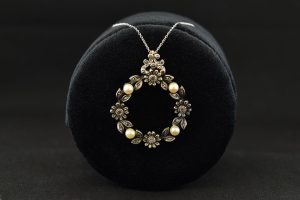 Two previously unworn gems are now one extremely wearable pendant.  Soon to be added to the website, this beauty is available in the store now for just $575.00.  Stop by, say "hi" and see it for yourself.  
Written by Carrie Martin
Photos by Dana Jerpe