Joden Girl
Baubles and Bling with Unbelievable Pricing
I have always been partial to the Art Nouveau period – it's utterly feminine and oh-so-romantic.  Featuring enameled flowers of every kind, sinewy lines and organic forms, this brief period (1890-1910) captured my heart from day one.  Pieces from this time are predominantly yellow gold, a rich color tone that brings warmth and enhances the enamel that is often present.  It is a period in jewelry that has since influenced other artisans and jewelers to replicate that timeless appeal.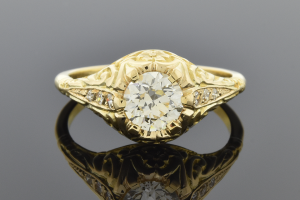 Without further ado, I present to you "The Piece of the Week"!  This 18 karat yellow gold ring is truly Art Nouveau inspired.  An Old European Cut diamond sits center stage, weighing exactly .76 carat.  This gem was hand set by our own Steve Becker here in our expert shop.  I love that we chose a diamond that is authentic to the Art Nouveau period to complete the original feeling of this ring.  
A delicate milgrained detail cascades down each shoulder perfectly encapsulating the three single cut diamonds held within.  These six tiny diamonds have a total weight of .05 carat.  A botanical ambiance is created with a series of curved lines that seem to represent vining stems and leaves.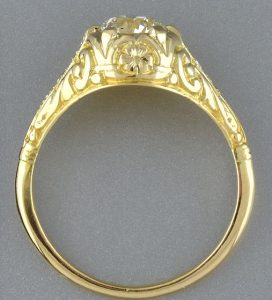 My favorite detail is the small six-petaled flower that is featured on each side of the ring.  It's a small, yet beautiful element that brings the Art Nouveau vibe full circle.  This gem has been available on our website for $5000.  We are offering it now for the steal-of-a-deal price of just $3,675.00.  This ring is an ideal combination, it offers the look and feel of an authentic Art Nouveau piece in a modern new gem.  This unbelievable price only lasts a week, buy it now!
Don't forget to message me with your requests for "The Piece of the Week"!
email:  carrie@joden.com
"You can go to a museum and look, or come to Joden and touch."
Written by Carrie Martin
Photos by Dana Jerpe and Shelly Isacco