Joden Girl
Baubles, Bling, and Platinum Rings
A medal is a small artistic object – a thin disc (usually made of metal) carrying a design – commemorating a significant event or achievement.  What better example of this is there than a wedding band?  Not only does this prized possession qualify as a medal, but it's also a promise that two are becoming one; not just any two – you two!  Your story is unique.  Your ring should be, too.
From vintage to modern, this striking trio shares a common element that takes them to the next level…  they are all made from platinum, arguably the king of metals.  Platinum is beautiful, refined, and versatile with an inner strength – much like a woman.  The benefits of this precious metal far exceed aesthetics…  it's a naturally occurring white element that requires little maintenance.  It's 95% pure, making it hypoallergenic.  Platinum is extremely dense (60% heavier than gold), very durable, and quite rare.  Its use enhances the allure of these bands…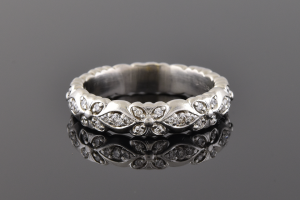 This piece is modern with an Edwardian inspired design.  The four-petaled blossoms encircle the entire ring, while only the top portion is diamond accented.  There are twenty-four fully faceted diamonds set into the vine with a combined total weight of .25 carats.  Priced at $2,500 – this beauty is certain to become an heirloom of tomorrow.
Four Old European Cut diamonds create sparkling centers for the intricately carved flowers in this vintage band.  The stems, leaves, and florets wrap artfully around the finger, with no beginning and no end.  Make this eternal enchantress yours for just $1700.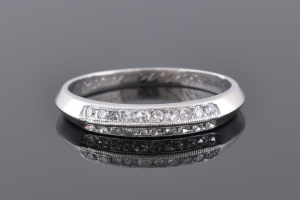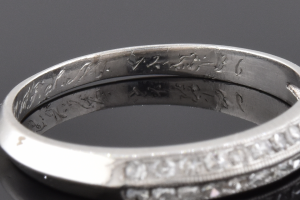 This final band has a hidden secret…  the original engraving is still inside!  Check out the close-up photo.  Dated 1936, this Art Deco piece offers quiet elegance.  There are twenty single-cut diamonds carefully set in two parallel lines across the top center of the ring.  These diamonds have a combined weight of .35 carats and are further accented by a delicate beaded edge.  It's priced right at just $1400.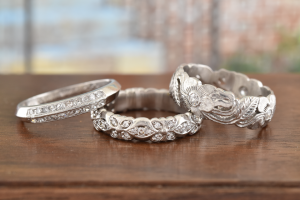 Like platinum, the beauty of these bands will never fade or tarnish – it's everlasting.  And like your commitment, it only grows stronger with each scratch, creating a rich patina that will shine forevermore.  
For additional details on, call me or drop me an email at carrie@joden.com.  I'd love to hear from you!
Written by Carrie Martin
Photos by Shelly Isacco