Joden Girl
Baubles, Bling, and Old School Things
This past March marked our 46th year of business, over half a lifetime for owner Joe Murawski; undeniably time well spent.  Most days Joe can be found in his office, the helm of Joden Jewelers – steering the ship.  Joe is usually lounging in his chair, Italian leather loafers resting on the edge of the desk, a strong cup of coffee steaming in front of him, with the phone pressed to his ear.  To the casual observer, it looks like chit chat; friendly banter.  Those people couldn't be more wrong.  This is where the real business happens.  Jewelry skates across the desk at an alarming pace.  Connections are established, maintained, and solidified.
Last week, I introduced you to the work of Carlo Giuliano.  I mentioned the enameled cross, pictured below.  What I didn't tell you was that this piece was acquired as the result of several telephone calls.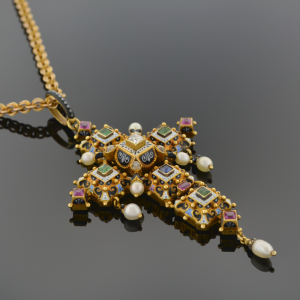 While these photos are quite good, they can not begin to share the exquisite details of this rare beauty.  The body of the cross is comprised of six rectangular sections, each one centered on a precious gem, either a diamond, emerald, or sapphire.  Each of these stones is surrounded by a border of white enamel with black and blue swirls.  To further accent this piece, the side and back of each segment are enameled as well, in more complex patterns featuring the addition of powder blue and soft pink enamel.  No matter where you look, you will find a new detail:  a natural pearl, a French cut ruby, or a tiny gold bead.
In a time where most businesses are dependent on computers, here at Joden, we're kicking it old school.  We'll stick with the telephone.  You never know who or what might be on the other end.
"You can go to a museum and look, or you can come to us and touch."
Written by Carrie Martin