Joden Girl
Baubles, Bling, and Patriotic Rings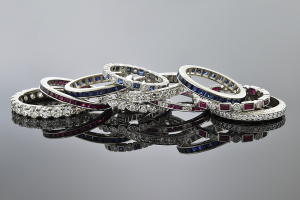 I love the Fourth of July, especially in small communities like mine.  The festivities start early and continue well into the night…  parades, picnics and of course, fireworks.  Everywhere you look – it's flags, banners, balloons, and flowers – all done in red, white, and blue.  Our patriotic pride shines brighter on that day than any other. 
For each of us, Old Glory represents freedom; but do you know what her colors stand for?  The white stripes signify innocence and purity, the red stripes are for hardiness and valor while the blue symbolizes vigilance, perseverance, and justice. 
What better way to showcase your patriotic spirit than with a stack of ruby, diamond, and sapphire bands?  At Joden, the selection of bands is endless – we have modern classics and vintage designs.  Every one has its own appeal; hand engraving, milgrain bezels, sparkling diamonds, and bright splashes of color. 
One of these beauties can be the crown jewel at the top of a band stack or worn alone for a more subtle allure.  This sapphire is a favorite of mine – the trio of diamonds bands that form the shank of the ring give a unique spin to the classic three-stone look of the center section.  It's available on our site for just over $4000.  The diamond ring with the ruby halo is new to us, purchased at the recent Las Vegas Antique Jewelry and Watch Show.  It's petite size would allow it to be worn on any finger, even a pinky.  Priced right at $1350, it's available on our site now. 
The beauty of these rings, like the beauty of our flag, will last a lifetime… stars and stripes forever.
Written by Carrie Martin
Photos by Shelly Isacco