Joden Girl
Baubles, Bling, and Collectible Things
No one comes to Joden by accident.  Everyone who walks through the door does so intentionally.  Drawn here by stunning billboards, glossy magazine ads, or the recommendation of a friend.  For each of these people, Joden is a destination.
People come to us for the extraordinary – the rare and unusual.  Be it vintage or modern, Joden is a haven of unique treasures.  Eclectic inventory tends to attract eclectic clients.  Our customers are nontraditional people looking for statement pieces.  Many of them are collectors looking for exceptional acquisitions.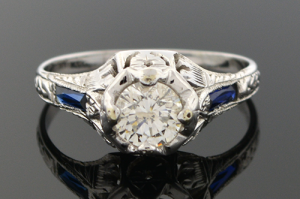 Quite often, a first-time buyer – a vintage virgin, if you will – is quickly converted to a collector.  Many times this is sparked by a charming antique engagement ring, like the one pictured above.  This ring was crafted in the mid-1920's of 18 karat white gold.  The carved mounting features a dazzling round diamond center accented by a pair of baguette cut sapphire sides.  This is a ring that leaves a girl wanting more.
The platinum sapphire and diamond pendant and the Art Deco circle pin pictured next are perfect companions for this ring.  Both feature rich blue sapphires and round brilliant diamonds.  These and countless others are waiting for you.  No matter what kind of jewelry sparks your passion, the journey begins with you and ends when you reach your destination, Joden Jewelers.
"You can go to a museum and look, or you can come to us and touch."
Written by Carrie Martin
Be the first to see the next blog. Sign up now.