Joden Girl
Baubles, Bling, and Sporting Things
Just outside the window, the sun is blazing in the sky.  Finally!  And tomorrow's forecast is calling for rain.  As the saying goes…  April showers bring May flowers.  That's exactly the phrase that came to mind the first time I saw this sweet Art Nouveau brooch.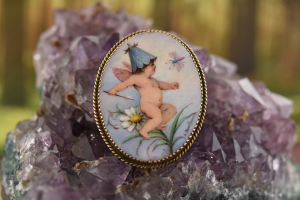 This cherubic fairy sitting atop a Spring daisy makes me smile.  Artfully done in pastel enamel with a delicate gold frame, it's simply perfect.  Closer inspection reveals the true art of the piece.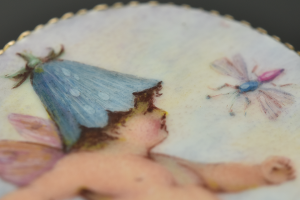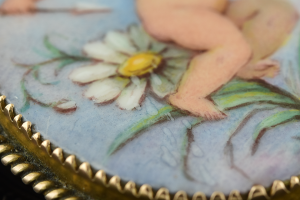 Like many Art Nouveau designs, enameling is the star of show.  It's a process in which glass is fused to a metal surface.  Glass beads (generally made from silica, quartz, borax, lead, and feldspar) are ground to a powder.  Metal oxides are added to create color.  The artist employed Peinture sur émail, a technique in which the colors are painted on, layer after layer.  The hues with the highest flowing temperature are applied first to keep one shade from melting into another.  The piece is baked after each application – sometimes firing it over twenty times!  Can you see the tiny drops of rain on the flower hat as well as the ones dripping from the daisy petals?  They are actually 3-dimensional, slightly raised from the surface of the painting…  such remarkable attention to detail!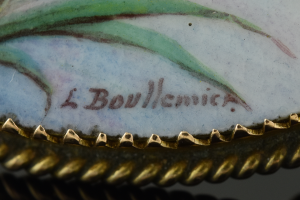 This photo shows where the artist signed his miniature work of art…  "L Boullemier".  I googled his name immediately ( What did I do before Google?)  and was delighted at what I found. 
His full name was Lucien Boullemier – a semi-famous English footballer (a.k.a. soccer player, in America) turned ceramic artiste.  Not finding a lot of success in his athletic career, he retired from soccer; ultimately, he followed in his father's footsteps and began working as a designer at Mintons, Soho Pottery, and finally Maling Pottery.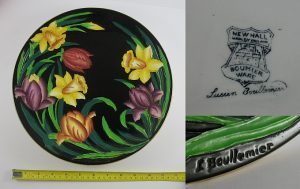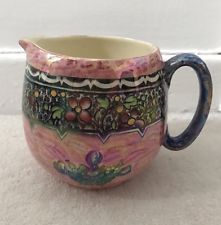 He was a prolific potter, many pieces are available in the market today – however, I have been unable to find another single piece of jewelry.  That makes this darling brooch quite rare.  Priced at $3300 – it's available now in our showroom.  Make the most of these April showers and come see it for yourself!
Written by Carrie Martin
Photos by Shelly Isacco