Joden Girl
Baubles, Bling and Aquamarine Things
There is something magical about the ocean…  it is a balm to my soul.  It calms and heals all that ails me.  Every year, I am blessed to spend one week at the shore, restoring my spirit while basking in the blazing summer sun.  The waves crash on the soft sand – first pounding, then lapping and finally vanishing back into the vast abyss.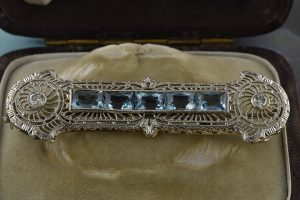 Aquamarine means "water of the sea".  Aptly named, this crystal blue gemstone has been a favorite of jewelers and artisans for more than 200 years.  Evoking images of calm waters in a tropical paradise, aquamarine is prized for it's glorious color and superb clarity.  A series of five French-cut beauties span the center of this Art Deco brooch – each multi-faceted gem sparkling with 2.50 carats of cerulean charm.  A frame of 14 karat white gold encases these stones and serves as a base for the delicately refined brooch that surrounds it. 
Much like a lacy spiderweb, the handcrafted filigree envelops the aquamarines, adding an airy feel to this 1920's dream.  A matched pair of European cut diamonds flank the center and provide a nucleus for two radiant swirls of perfectly milgrained petals.  These two diamonds have a combined weight of .15 carat – just a hint of sparkle.  Knowing that each and every wire of this intricate piece was created by hand is positively mind-boggling.  Hours, days and perhaps weeks were required to bring this vintage vision to life.  Available on our website, it's a steal for just $1,850.00.  Make it yours today.  Until then, meet me where the sky touches the sea.  
"Go to our site and look, then come to us and touch."
We are open and look forward to seeing you soon!
Written by Carrie Martin
Photos by Dana Jerpe