Joden Girl
Baubles, Bling and  A Collector's Things
The rarest of it's species, this vibrant jewel rivals the beauty of all other green gemstones.  Mined primarily in Kenya, this unusual garnet is never treated and there is no known synthetic form.  It has never been lab-grown or man made.  The natural crisp, clean quality of tsavorite speaks for itself and needs no enhancement.  Often found in small sizes, anything over two carats is scarce and as a result, extremely valuable.  
Tsavorite gains it's prized green hue from traces of vanadium and chromium, giving a bold and saturated tone that many prefer to the color of an emerald.  Additionally, the brilliance and clarity grade of this uncommon stone are also often favored over the emerald which can be cloudy and included.
Showcased in a vintage 14 karat white gold halo-style ring, this scintillating tsavorite weighs in at a whopping 4.58 carats.  Cushion-shaped, this lively stone is surrounded by twelve round brilliant cut diamonds.  These diamonds have a combined weight of 1.20 carats.  The contrast between the white diamonds and green tsavorite is striking.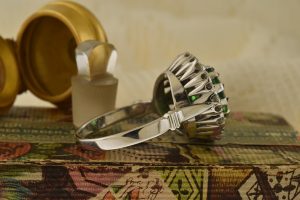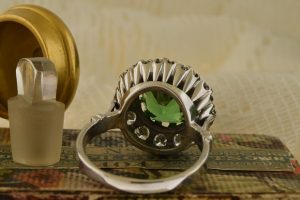 The setting itself is artistic in design, with each prong flaring upwards and out – like the petals of a flower.  Made in the 1960's, this ring has real style.  It is accompanied by a report from the International Gemological Institute of America, valuing the ring at $23,520.00!
A valued part of Joe's Special Box, this rare gem is priced at just $16,750.00 – well under the appraised value.  Drop by our showroom or give us a call to make it yours.  
Written by Carrie Martin
Photos by Dana Jerpe