Joden Girl
Baubles and Bling – It's a family thing!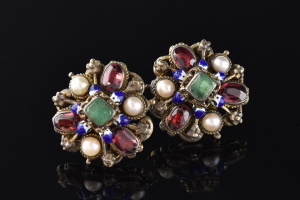 These bright and colorful earrings are an integral part of a suite of jewelry recently acquired at Joden.  Like many parures, it is comprised of multiple pieces that can be disassembled and then reconfigured to create different looks.  
The collection is ensconced in the original fitted leather case…  with the jewelers name carefully inscribed on the ivory satin lining.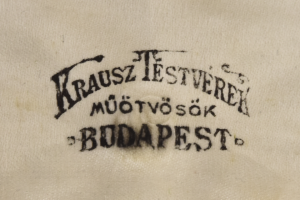 Krausz Testverek – or Krausz Siblings – a jewelry store located in Budapest in the late 1800's into the early 1900's.  Like Joden, it was a family owned business and according to these lovely examples of advertising – they too specialized in antique jewelry.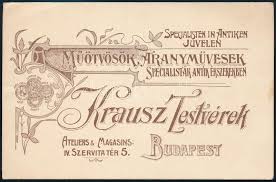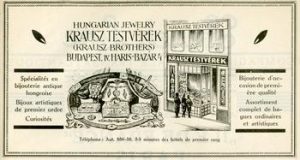 Five individual components (a necklet, a brooch, a pair of earrings, a small drop pendant, and a connecting segment) are elaborately set with a multitude of color.  Foiled settings bring life to the square cut emeralds and peridot.  These gems are evenly spaced by lavish pops of pink tourmaline and white pearls.  Further enhancing the design is an intricate pattern of black, white, and blue enamel.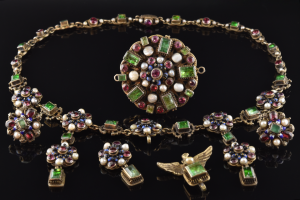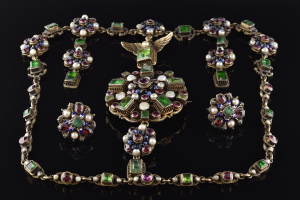 Here you can see each individual piece and then the necklace fully united.  So many possibilities – check it out on this video…
Perhaps you're thinking that you don't have anywhere to wear this – but let's break it down.  Wear the earrings and brooch to work, add in the necklet for dinner out.  And for special occasions, clip it all together for an amazing statement necklace!  Fashion and function, you can't go wrong.
For pricing and additional details, call me at 800.747.7552.  
Just ask for the Joden Girl.
Written by Carrie Martin
Photos and video by Shelly Isacco