Joden Girl
Baubles, Bling, and A Collector's Things
Last week, I shared two rings that made the "Top Ten Rings Available at Joden" list compiled by renowned jewelry blogger Danielle Miele.  Her popular column often inspires me to look at jewelry and gemstones in a new light.  She selected a jade beauty, noting that she has been obsessed with the green stone lately.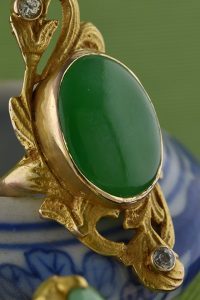 This elongated Art Nouveau stunner was Danielle's pick.  Made from swirling golden vines that surround a bezel set bright green jade center, it is the ideal ornamentation for a middle finger.  A pair of old cut diamonds add the tiniest bit of sparkle, the ring is priced at $2000.00.  I've never been a jade girl and I have passed over this ring in Joe's Special Box a million times…  tossed it aside in favor of something more appealing to me.  But when I found out it made the list, I gave it a chance.  It's really grown on me…  so much so that I sought out another one.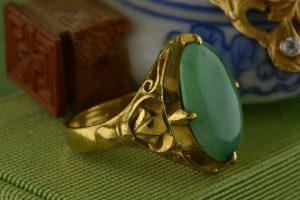 This little charmer is my pick (also from Joe's Special Box).  It's made from 22 karat yellow gold (the bright color is to die for!) with an intricate pattern of s-shaped swirls that create the gallery under the center stone.  The color of the lovely cabochon jade is what hooked me…  it's a glorious marbling of apple green with a darker grass green.  And when I slid it onto my finger, it fit perfectly.  I have to admit, I'm a sucker for that.  I have been wearing it the entire time I have been writing.  I love that after over twenty years in the jewelry industry, I can still find a new inspiration.  So, thank you Danielle – you've converted me into a jade lover!  Take it home today for $2250.00.
"You can go to a museum and look, or come to us and touch."
Written by Carrie Martin
Photos by Dana Jerpe