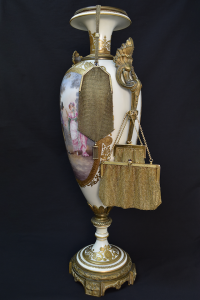 Joden Girl
Baubles, Bling, and Amazing Accessories
Keep calm and carry a fabulous bag!  These are words to live by.  Honestly, a great handbag is like balm for a fashionista's soul; it's full of promise and possibility, it always fits, and like all classics – it never goes out of style. 
Louis Vuitton, Hermès, Kate Spade, and Chanel – just to name a few.  The mention of these names evokes extravagant imagery and often inspires retail therapy in today's woman.  But luxury handbags are not a new trend, in fact, they've been fashionable for over 200 years.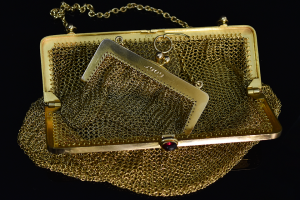 It often took weeks to make just one purse like this.  Crafted from hundreds of tiny gold links, each one was made individually then riveted together to form the silky mesh.  It glides across your skin like satin…  truly incredible.  The process was perfected in the Middle Ages when making chain mail armor. 
This lovely bag (pictured above) was handmade in the early 1900's.  Made entirely of 14 karat yellow gold, it features a cabochon garnet thumbpiece (the button used to open it), a carrying chain, and a small matching change purse suspended from a shepherd's hook (small curled wire) soldered inside the frame.  Scripted onto the change purse is the year "1909".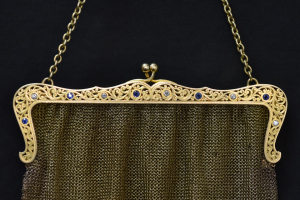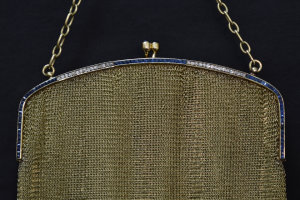 Flappers went crazy for these golden beauties in the 1920's…  especially those with decorative patterns woven into the mesh and the ones decorated with precious stone trim, like these.  Rich blue sapphires are spaced by dazzling diamonds across the framework of each gold clutch. 
Whiting and Davis is perhaps the most famous maker of mesh handbags of various metals from yellow gold (like those shown here) to German silver, sterling silver, and gunmetal.  When the automatic mesh machine was invented in 1912, Whiting and Davis purchased the patent.  They dominated the market for nearly a century.
At Joden, we have many of these unique bags in stock, in both gold and silver.  This weekend and for the next few weeks, they will be on display in our front window.  Come visit me!  I promise you that this is a bag you have to

feel

to believe.  For now, check out our video to see some additional unique features of this dazzling arm candy…  I am crazy over the diagonal line pattern and the "squeeze" clasp!  You must come try it for yourself…
As always, go to our site and look, then come to Joden and touch.
Written by Carrie Martin
Photos and video by Shelly Isacco