Joden Girl
Baubles, Bling, and A Collector's Things
Whimsical!  That's the word that Joe used to describe this bracelet, and he was SO right!  Handmade during the 1890's from a rosy 9 karat gold, it's the best little accessory for summer.  It pairs perfectly with a light cotton dress or your favorite romper.  The look is similar to a station bracelet but so much more.  Each little bead (or station) has tiny cabochon turquoise and pearls burnished into the surface.  One larger gem-set bead dangles from the center.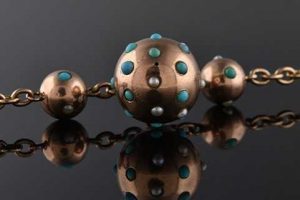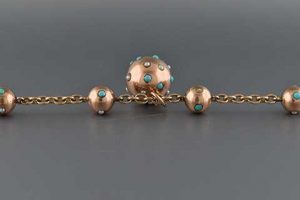 Victorians used turquoise with abandon, it was a talisman for them.  They believed it to be a stone of protection; it brought energy, wisdom, and serenity to the wearer.  It is one of the oldest gemstones, it's use can be traced back to ancient civilizations like the Aztecs and the Shang Dynasty.  Such a rich history for this lustrous blue stone!
Make this vintage gem your lucky charm this summer.  Find it in our Facebook store for just $1450.00.  
"You can go to a museum and look, or come to us and touch."
Written by Carrie Martin
Photos by Dana Jerpe