Joden Girl
Baubles, Bling, and Fairy Tale Things
Every girl dreams of living happily ever after.  Princesses have been searching for their Prince Charming for hundreds of years — whether in fabled stories of long ago or the animated movies of today.  Prince Charming and Cinderella, Prince Eric and Ariel, Belle and the Beast:  these characters are the stuff little girls dreams are made of…
The enchanted rose (pictured above) is an iconic symbol from Beauty and The Beast.  The story is woven around this perfect blossom.  As the tale unfolds, the rose begins to wither and will ultimately die.  Only true love can save the day.
Recently, we purchased our own enchanted rose (pictured below).  The moment I saw it, I immediately thought of Beauty and The Beast.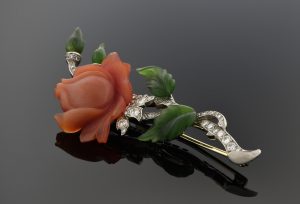 This piece, made in the 1950's, implements perfect Edwardian style.  The stem of the bud is constructed of platinum with a white gold pin stem.  Round brilliant diamonds were set into the stem, adding the perfect amount of sparkle.  The rose petals were carved from a singular piece of salmon colored jade, and lifelike leaves have been sculpted from four pieces of green jade.  Each element combines to create this fabled flower.
Sure to be an instant favorite, its beauty will never fade.  Our enchanted rose is the perfect beginning to your own fairy tale.
"You can go to a museum and look, or you can come to us and touch."
Written by Carrie Martin
Photo by Carla Leight
Be the first to see the next blog. Sign up now.