Joden Girl
Baubles, Bling and Birthstone Things
All week long, we've been celebrating our stick pin obsession; we even created our own hashtag to help share the love – #stickpinobsession.  We have hundreds of these tiny treasures in every shape, size and theme.  There are flowers, animals, crescent moons and horseshoes.  From Victorian to Art Deco – we simply can not help ourselves!  
We have four trays overflowing with these little beauties – a resource we often utilize to fashion conversion jewels.  Stick pins are easily converted to rings, pendants, and charms.  One of our favorite things to do is create custom charm bracelets – multiple motifs perfectly blended to reflect your personal style and story.  You can even design a family piece using birthstone stick pins!  So fun, right?
The above photo features an array of stick pin wonders arranged from January to December – a little bit of everything from garnets to turquoise and a few special ones for our August and September babies.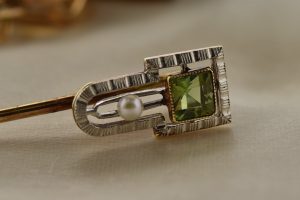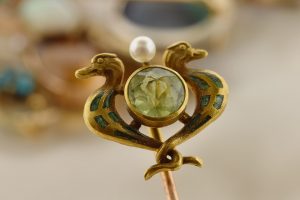 If peridot is your birthstone, mark your spot with one of these darling gems.  Choose between an elegant Edwardian enticer accented with a square cut peridot, a tiny pearl, and linear engraving priced at $300… or an Art Nouveau number featuring a pair of enameled sea serpents intertwined with a round peridot and a small white pearl priced at $200.  You don't have to be born in August to nab one of these!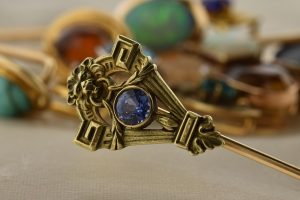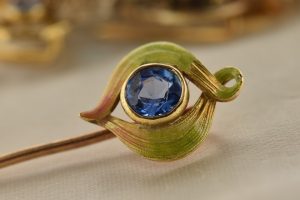 All of you September-born babes don't want to miss these sapphire sparklers.  Both were made just before the turn of the 20th century – the end of the Victorian era and the beginning of Art Nouveau.  Perhaps you favor the stately lion that crowns the first stick pin.  A golden ring is held between his powerful jaws with a pair of grand garlands draped above a bright blue round sapphire priced at $300.  Or maybe you're fixated on the sinewy enameled vine depicted in the second pin.  Shades of pastel pink fade into a spring green accenting the round blue sapphire center to perfection, available now for $200.00.  I may have been born in May, but I am definitely a sapphire girl!
Convert these pretties into sweet little rings, delicate pendants, charms with special meaning or leave them as they are.  With hundreds of stick pins in stock, we weren't able to put them on our site.  But we'd love to do the shopping for you… call us at 800-747-7552 or send an email to carrie@joden.com and tell us what you're searching for.  
Written by Carrie Martin
Photos by Dana Jerpe