Joden Girl
Baubles, Bling and Figurative Things
In the midst of social distancing, the most important thing we can do is to care for each other.  Respect each other, have REGARD for one another.  What more elegant way to do so than with this superb bracelet from the late Victorian era.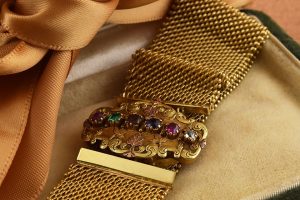 Beautifully handcrafted from 22 karat yellow and rose gold, the length of this bracelet features woven mesh links nearly one inch wide.  The mesh is capped with a pair of high polished ends where the clasp attaches.  Most often, a clasp is hidden, made to blend seamlessly – not in this case.  This clasp is displayed proudly, and set with a series of gemstones in a very specific order…  Ruby, Emerald, Garnet, Amethyst, Ruby, and Diamond.  These colorful stones are an acrostic, with the first letter of each one spelling out the word REGARD.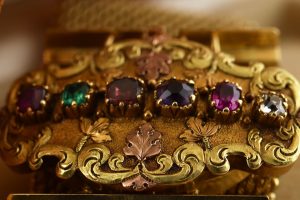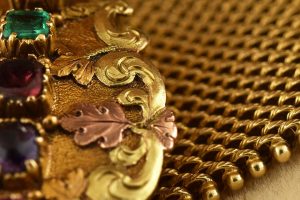 This very romantic sentiment is surrounded by additional rich details.  A matte finish has been applied to the underlying structure, while the edge of the clasp is artfully scalloped with raised golden curls interspersed with multicolored leaves.  
A method of expressing affection, these symbolic gems were popular during the 1800's.  In addition to the "Regard" cipher, there was also "Dearest".  Rings were the most common example of this art-form, this bracelet is much more rare.  Priced at $4,475.00 – this expertly crafted beauty is highly collectible and won't last long.  
If you've been searching for the perfect way to tell her that you love her, look no further.  Call us at 800-747-7552 to make it yours.
"You can go to a museum and look, or come to us and touch."
Written by Carrie Martin
Photos by Dana Jerpe