Joden Girl
Baubles and Bling with Unbelievable Pricing
I was (and sometimes still am) the epitome of a girly-girl.  I obsessed over my Barbies, hovered over my Cabbage Patches like a mother hen…  and of course, daydreamed about my wedding day.  I wanted to be a princess complete with a Cinderella ballgown and sparkling diamond ring.
This Pick of the week is sure to make someone's dream come true.  A 1.12 carat Princess cut diamond sits center stage in a signature Tacori ring.  Even the name of this brilliant diamond speaks volumes – princess cut.  Such a romantic moniker – who wouldn't want it? Accompanied by a certificate from the International Gemological Institute of America, this diamond is graded E-F in color and SI1-2 in clarity.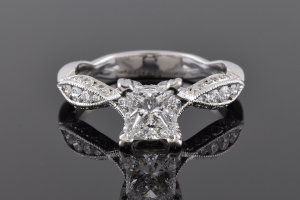 This bright white beauty sits prettily above an intricate designer ring.  Signed Tacori, this mounting is perfect, fit for a princess.  From the RoyalT collection, this 18 karat white gold stunner is accurately described as "twisting classic crescent ribbons".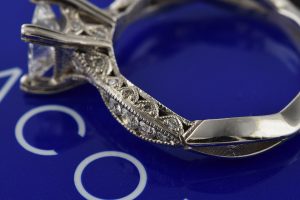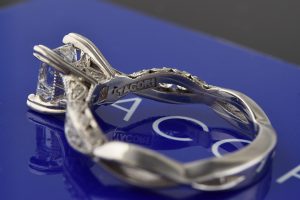 The side profile showcases the trademark Tacori crescent pattern, while the band is created by an interlocking series of east/west oriented marquise shaped links.  Diamonds are woven into the lacy wirework in both channel and prong style setting techniques.  There are thirty-six round diamonds that have a combined weight of .50 carat.  It's an ideal pairing, a unique ring with timeless appeal crowned by a dazzling center diamond.  
The real magic of this fairy tale is in the numbers, in this case, we have three.
$11,030.00 – Certificate Value (shown on our website listing)
$8,500.00 – Original Joden Price
$6,850.00 – Unbelievable Pick of the Week Price
Whether you have a Prince Charming or are the hero of your own story – this ring is too good to miss.  Hop on over to Joden.com to take advantage of this very special pricing.  
"Go to our site and look, then come to us and touch."
Written by Carrie Martin
Photos by Dana Jerpe and Shelly Isacco