Joden Girl
Baubles, Bling, and 1940's Things
Wide expanses of gleaming gold artfully set with vivid red rubies and dazzling white diamonds…  this is the image that comes to mind when I think about Retro jewelry.  Beginning at the end of the 1930's with the onset of WWII in Europe, this period was heavily influenced by the changes happening in the world.  The use of platinum was restricted, paving the way for gold to make what was perhaps the greatest comeback of all time.  Strong designs sculpted from yellow, rose, and green gold made their way into the hearts of Hollywood celebrities and ultimately the hearts of the American people.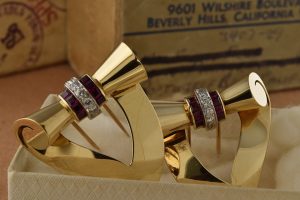 Many European jewelry firms shut down during the war, forcing craftsmen and artisans to immigrate to America where the economy was thriving.  These bold yet ultra-feminine dress clips signed Tiffany & Co. showcase all the best bits of Retro jewelry!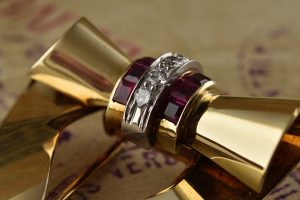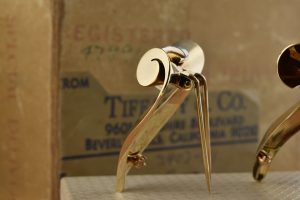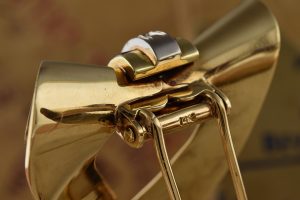 Check out that glorious scroll – it curls around in perfect symmetry, giving a bow-shaped appeal to each one.  The center of the bow is accented with gem-fine rubies…sixteen square cut beauties.  The bright pop of color creates the ideal setting for the tiny strip of diamonds sparkling from within.  I love the high-polished finish that completes these treasures.  The surface is sleek and smooth exhibiting a mirror-like reflection.  It's dazzling.  Glam up a collar, a lapel, or even a sweater with these oh-so-curvaceous clips for $6,300.00.
The Retro years (late 1930s-mid-1950s) represent a nostalgic snippet of American history.  The mementos from that time, especially jewelry, are highly collectible and command big prices in the market.  These lookers, made by one of the most iconic and celebrated jewelers of all time are the epitome of Retro.  Don't just take my word for it, come see them for yourself.  
"You can go to a museum and look, or come to Joden and touch."
Written by Carrie Martin
Photos by Dana Jerpe