Joden Girl
Baubles, Bling, and Recreated Things
My mother's jewelry box was always a mystery to me as a child.  I can see it in my mind so clearly…  a hinged lid that when opened, revealed two drawers of little square compartments overflowing with assorted trinkets and treasures.  I loved digging down into the layers, pulling out my favorite pieces…  a silver charm bracelet with mechanical charms (a tiny rotary telephone with a moving dial, a baby buggy with spinning wheels), a matching earring and necklace set comprised of a series of small wooden beads, and a Retro style ring with a synthetic ruby center.  Piece after piece, each one more intriguing than the next to my six-year-old eyes.  The box always sat on my mother's dresser, neatly centered in front of the oversize mirror.  Unfortunately, she never wore the pieces inside. 
I know this resonates with many of you.  We all have those pieces that seem to float around the bottom of our jewelry box – getting pushed aside time and again as we sift through  searching for our favorites.  For many of us, the items that don't get worn are pins…  circle pins, lapel pins, lingerie pins, and stick pins.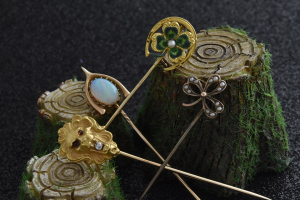 At Joden, we have drawers full of stick pins…  hundreds of them.  We have enameled flowers, seed pearl accented love knots, hearts, and clovers, there are animals of every kind, sparkling gemstones, both silver and gold.  Stick pins are a great accessory and still look good threaded through a scarf or necktie – but if you're just not a pin girl, here are some charming options.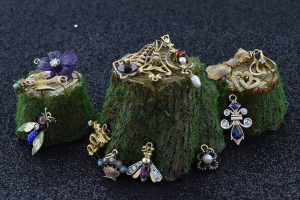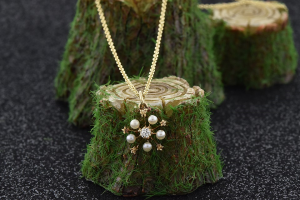 The photo on the left shows a sampling of former stick pins that have been converted to tiny charms.  The photo on the right showcases one of them on a delicate gold chain.  It's a perfect pendant; able to be worn every day.  It's a signature piece that can be worn alone or layered with another necklace or two. 
Maybe you have more than one stick pin, or perhaps you would like to start collecting them.  The bracelet on the left is a progression of cabochon gemstone charms- moonstone, amethyst, turquoise, jade, and opal.  The theme of the bracelet on the right is diamond trim – while each charm is uniquely different, the diamond accents bring it all together. 
Whether you have pins of your own or perhaps you need to check out the selection available at Joden, it's all about conversion – giving new life to an old treasure.
"Go to our site and look, then come to Joden and touch."
Written by Carrie Martin
Photos by Shelly Isacco