Joden Girl
Baubles, Bling, and The Latest Things
A perfect square tipped on it's edge looks like a diamond.  This dainty brooch has taken that form in the most elegant way.  Each side of this geometric shape measures about an inch, the overall size is petite and easy to wear.  14-karat yellow gold wire-work creates an intricate pattern of swirls and whorls.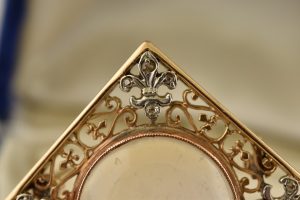 Expertly fitted into each corner is a tiny platinum fleur-de-lis, which is French for lily flower.  There are four rose cut diamonds set within each fleur-de-lis.  These sixteen diamonds have a total weight of .15 carat.  The snow white lily represents purity and chastity.  Captivated by its hue, the Catholic church adopted the lily as a symbol for the Virgin Mary.  She has been depicted many times holding a lily.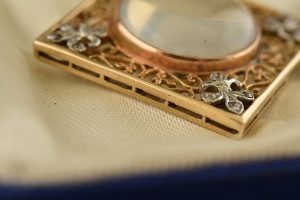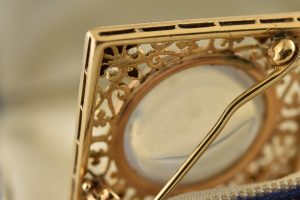 A large round cabochon moonstone is bezel set within the center of the brooch.  Opalescent and luminous, the stone exhibits a soft glow, like a full moon in a starry night sky.  This ethereal gem is one of the most recent additions to our estate department.  Not yet on our site, this brooch is available in our store for just $1,280.00.  
"You can go to a museum and look or come to us and touch."
Written by Carrie Martin
Photos by Dana Jerpe