Joden Girl
Baubles and Bling with Unbelievable Pricing
There are so many reasons to LOVE this Retro two-piece.  Made from 14 karat yellow gold, this bracelet and matching earrings from the late 1940's has such style!  High polish interlocking knots are made from six individual wires.  A perfect swirl of said wires create five identical links…  each one centered on an 8mm cabochon moonstone. These shimmery stones gleam from within the yellow gold circles.  Moonstone is celebrated for two particular phenomenons… chatoyancy (also known as the cat's eye effect) and adularescence.  Together these two qualities give this natural gemstone the glowing moon-like appearance for which it was named.  
Between each knot-like segment are a secondary pair of linked circles…  resembling double wedding rings.  This bracelet is an endless series of entwined loops that results in a look somehow managing to be intricately superb and sublimely simple at the same time.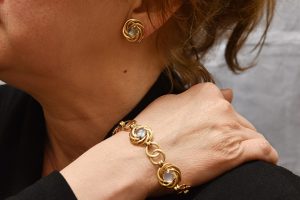 Clasp the bracelet on with the matching earrings to embrace the total package.  This mini-suite is from our estate department – another reason to love it.  Estate jewelry often offers superior craftsmanship, unique style and real value.  Pre-owned is pre-loved!  
You may have noticed the "FFF" hallmark shown above.  This is the maker's mark for "F & F Felger".  This fine jewelry manufacturer from Newark, New Jersey was a supplier to giants like Cartier, Tiffany & Co. and J.E. Caldwell in the early 20th century.  Founded in 1911, F & F Felger was recognized and known as one of the most prestigious  American jewelry makers of all time.  Yet another perk…  these beauties were made in the USA.  ♥
Modeled here, you can truly appreciate the wear-ability and versatility of these signed jewels.  Previously featured on our website, this suite has been selected as a Pick of the Week.  
Original Price:  $5000.00
New and Unbelievable Price:  $3,625.00
Total Savings: $1,375.00!
Take advantage of this incredible offer and grab yourself not just one but TWO fabulous pieces.  This perfect pair from F & F Felger is exactly what you need to amp up your summer wardrobe.  Check it out on our site!  
Inspire us for next time!  Is there a piece on our site that caught your eye?  Would you like it to be a featured Pick of the Week?   Send suggestions to carrie@joden.com. 
"You can go to a museum and look or come to us and touch."
Written by Carrie Martin
Photos by Dana Jerpe and Shelly Isacco