Joden Girl
Baubles, Bling and Auspicious Things
If ever there were a time when we could use a little luck, this is it.  One in five thousand…  that's the probability of finding a four-leaf clover.  It seems silly to spend hours searching for one of these fortuitous fronds when this stunning alternative is at the tips of your fingers.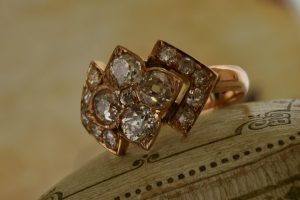 The center section of this delightful ring is designed in a beloved pattern – the quatrefoil.  Gaining mass popularity in recent years, it has been popping up in everything from tattoos to home decor.  The thing that you may not have known is that this equally proportioned configuration has had timeless appeal – it can be traced back thousands of years.  The counterpart to the trefoil, the quatrefoil is represented by four symmetrical circles with their edges slightly overlapping.  These circles are placed in the compass rose positions of North, South, East, and West.  Believed to be deeply rooted in the Christian faith, one interpretation is that it represents the four gospels of the New Testament: Matthew, Mark, Luke and John.  Another simpler translation is much more literal…  quatrefoil means "four leaves".  And as you know, four leaves are quite lucky!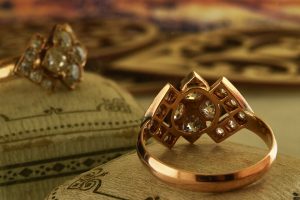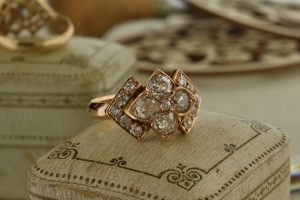 Nothing beats the gleam of 18 karat gold, except perhaps antique 18 karat gold.  A hint of copper brings a rosy blush to the already rich color of this Victorian vision.  Crafted around 1875, this ring packs a subtle punch – quiet beauty with a bit of symbolic appeal.  There are fifteen Old European Cut diamonds nestled into the emblematic design…  they have a combined total of 1.50 carats.  These open-culet, cushion shaped gems glitter and shine with every turn of the hand.  The low-profile style makes this ring ideal for every day wear.  Boast this beauty on either hand, any finger will do.  Bring a little luck into your life for just $2,700.
We are open and excited to see you again! 
Written by Carrie Martin
Photos by Dana Jerpe