Joden Girl
Baubles, Bling, and A Collector's Things
When the "Joe's Special Box" edition of the blog was first introduced more than five years ago, Joe's intention was to offer a glimpse into his personally curated collection.  Tucked behind the oak door of his desk, situated among plastic tackle boxes filled with gold chains, a bottle or two of Advil and an explosion of small Ziploc bags are three time-worn and well-loved cardboard mailing boxes.  The edges have frayed and softened with use; each tear and split has been patched back together with packaging tape.  Each box is inscribed with now barely legible handwriting that reads…
Joe's Special Box 1
Joe's Special Box 2
Joe's Special Box – Rings
Inside is an eclectic assortment, entirely of Joe's choosing.  It's truly a jewelry lover's dream.  Most items aren't terribly expensive, but each one is pristine.  The range is broad, encompassing everything from Victorian baby rings to an exceedingly rare piece from famed jeweler, Carlo Giuliano.  Today, I am sharing the 137th item from the collection.  
This charming heart pendant hearkens back to the late 1800's.  Featuring a deep reddish-brown cabochon garnet in the center, the piece is simply too sweet.  The garnet is fully encapsulated by a milgrain-edged bezel made from 14-karat yellow gold.  Set at regular intervals around the center heart are eighteen natural pearls.  Each creamy white orb is positioned on a small golden wire; together, they form a scalloped halo. 
Engraved on the back of the heart is this sentiment – "L.V.A.F. to Joan 1942".  You may have noticed that the age of the pendant doesn't coincide with the inscribed date.  I have to wonder how and why this beauty was gifted to Joan more than half a century after it was created.  Perhaps it was handed down from one generation to the next.  Or maybe she was simply a lover of vintage jewelry?   The possibilities are endless – and unfortunately, a story we'll never know.  If you're as intrigued and captivated by this antique pendant as we are, be sure to stop by the store.  We have it available for just $1,050.00.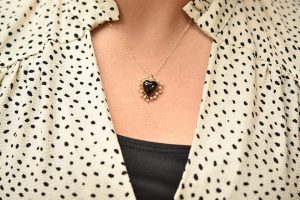 "You can go to a museum and look, or come to us and touch."
Written by Carrie Martin
Photos by Dana Jerpe