Joden Girl
Baubles, Bling and Colorful Things
What's the first thing that attracts you to a piece of jewelry?  Are you drawn to sparkle?  Is it design?  Some people love delicate jewels, while others go for physically large chunky pieces.  For me, it is almost always about color.  From the metal to the gems – I love vibrant, rich color!  
That's what makes Art Nouveau my favorite period…  all those glorious enamels; color on color on color.  This bracelet is an unusual example from that time, dating near the end of the period…  circa 1910.  The two tone metal framework has an Edwardian feel while the Plique-À-Jour style of enameling is decidedly Art Nouveau. 

Shown here from behind, you can see the elaborate structure of the bracelet.  This series of nine identical square-shaped links was handmade…  like a stained glass window, each cell is specifically crafted to enhance the green and gold enamel held inside.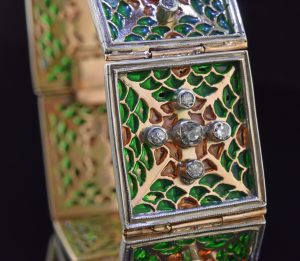 Carefully set on the front of each section are five bezel set diamonds, welded in an equal-armed cross formation.  This symbol is often thought to represent the four seasons…  nature in perfect balance.  Combined with the color green – the hue of life and renewal – this bracelet is truly harmonious.  
This piece is definitely a departure for me…  it's not what I would call beautiful, but rather handsome.  Being over one hundred years old, this antique is in excellent condition.  From the spiderweb of 18 karat rosy gold underneath to the strong lines of white gold on top – this crossover bracelet is clearly a conversation starter.  Spark a discussion at your house for just $9500.
"You can go to a museum and look, or come to Joden and touch."
Writing and Photos by Carrie Martin