Joden Girl
Baubles, Bling and Frozen Things
The weather is so fickle in the Spring; the sun was shining all day last Saturday – hot enough to leave a crimson glow on my cheeks and nose.  But, almost overnight the sun turned cold.  For the last few days, we have had a harsh nip in the air -making it feel more like November than May.  I almost expected to see a few white flurries floating in the air.  Fortunately, there's only been one snowflake at Joden this week; and just like it's real life counterpart, it took my breath away.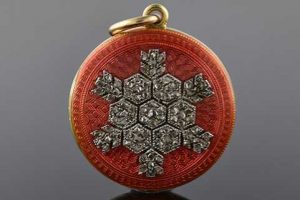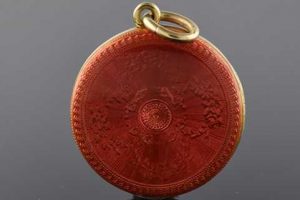 I can hardly believe that someone was able to create such layers of rich detail in something so small…   this Art Nouveau beauty is just a touch bigger than a dime, measuring 3/4 of an inch from edge to edge.  Speaking of the edge, can you see the delicate pattern showcased there?  That repeating scallop is not part of the enamel as you might have thought…  it's actually a centuries old technique known as guilloché.  This extremely meticulous method consists of engraving an intricate and repetitive design into the metal via engine-turning.  This particular piece features a complex arrangement of parallel lines overlaid with a series of garlands, vines, and bows.  
Next, the artisan would coat the jewel with a translucent enamel, usually in shades of blue, gray, or green.  Never before have I seen this bright coral colored enamel – it's glorious!  The red-orange color allows the stunning pattern underneath to really shine.  The final detail is the crowning glory.  Handmade from platinum and painstakingly set with ninety-one rose cut diamonds,  there is no other snowflake quite like this.  It is the epitome of precise perfection.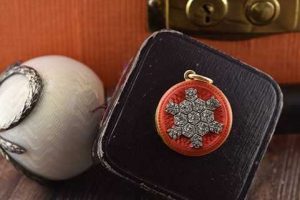 As you might imagine, such skill comes at a price, and this one is no bargain.  In fact, it's extremely expensive, but worth every penny of it's $2250 price tag.  Available exclusively at Joden.  
"You can go to a museum and look, or come to us and touch."
Written by Carrie Martin
Photos by Dana Jerpe