Joden Girl
Baubles, Bling, and  Non-traditional Rings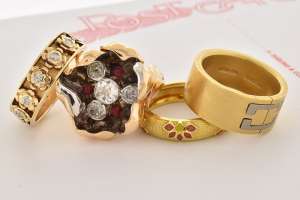 In my work world, we talk engagement rings on the daily…  We're a team.  We share stories, offer advice, and often dissect current trends.  This year has brought an entirely new engagement adventure…  millenials want to savor the experience (while simultaneously documenting it on social media, of course) and ultimately find a ring as unique as their relationship. 
Today's couples are choosing vintage.  They want mixed metals, rose gold and yellow gold often paired with colored stones.  2018 is all about floral motifs, shapes, and distinctive rings.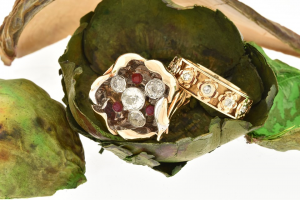 This pairing is the absolute limit of style and individuality!  First, from the estate of Tamara Toumanova, is this 14 karat gold flower ring.  The curved rose gold petals bloom on your finger while the stem and leaves wrap around to form the band.  Four round diamonds twinkle from inside.  Wear it alone, or stack it with this charming eternity band.  Crafted from 14 karat yellow gold, eleven tiny flowers circle the band, each with a single-cut diamond center.  Perfect for those with an eye for exceptional elegance.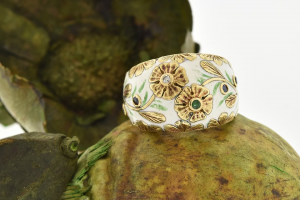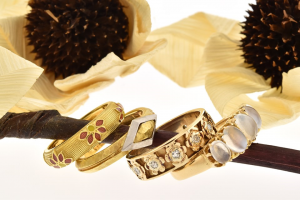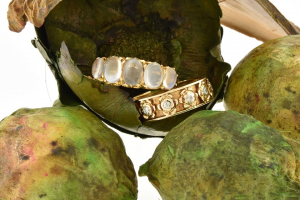 Some couples are opting to forego the engagement ring altogether, preferring instead to celebrate their union with a singular band.  The antique and estate jewelry at Joden offers hundreds of choices…  whether you have a vintage vision in mind or something sleek and modern, our selection will not disappoint.  Here are a few of my favorites…  enamel flowers, matte-finish modernism, and fabled moonstones – each one a tiny treasure in its own right.  Stop in, drop me a line (carrie@joden.com), or call me for details and pricing! 
"You can go to a museum and look, or come to Joden and touch"
Written by Carrie Martin
Photos by Shelly Isacco