Joden Girl
Baubles and Bling from a Prima Ballerina
From the museum case to the cardboard boxes (Think Inside the Box)…  the question on everyone's mind is the same – "Where do you get your jewelry?"  There isn't just one answer, in fact, there are many…  we buy from antique dealers, auctions and estate sales, and from private parties.  We buy from traveling salesman and brokers.  We have clients in 26 states and six countries in Europe.  The jewelry pours through the door every single day. 
If "Where do you get your jewelry?" is the most popular question, the next most popular inquiry is "Do you know who wore this?"  The answer to that question is simple – "No."  We almost never know who owned the fabulous pieces in our cases…  almost.  Every once in a long while, we are able to purchase pieces with provenance.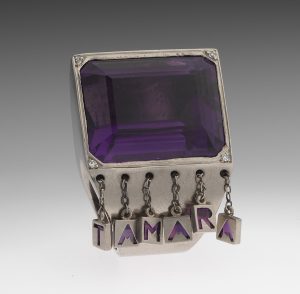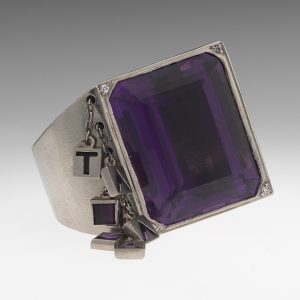 As you may have guessed, the tiny (size 2) ring above was owned by Tamara; Tamara Toumanova that is.  She was known as "The Black Pearl of the Russian Ballet" – referring not just to her talent and technique, but also to her beauty.  Her glossy raven-wing hair and large dark eyes charmed choreographers and audiences alike.  Imagine the "T-A-M-A-R-A" letters  of this 18 karat white gold and amethyst ring twinkling in the lights as she spun on the stage.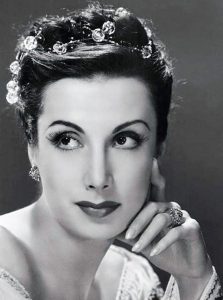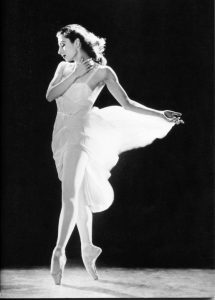 Tamara made her debut at the age of 10, starring in numerous ballets in Europe and the United States.  Later, she danced the role of the black swan in Swan Lake.  She toured the world with her mother for more than thirty years, during which time she made her screen debut in "Days of Glory" with Gregory Peck.  Later that same year, she married the film's producer, Casey Robinson.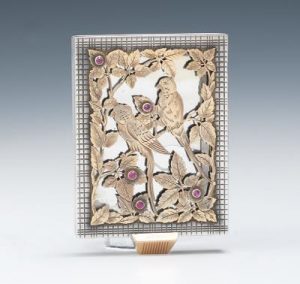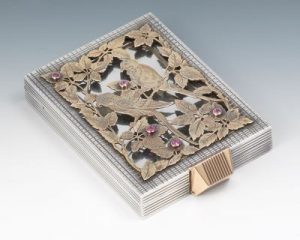 Perhaps this silver and rose gold compact, signed "Boucheron, Paris" was a gift from her husband.  This lovely piece depicts a pair of lovebirds amid a sea of leaves with five ruby accents.  Priced at $3500, this stunning piece would definitely bring a bit of Old Hollywood glamour to your morning make-up routine!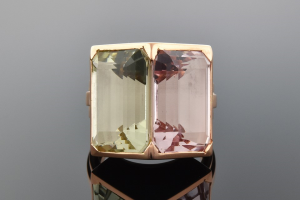 This ring is my favorite piece from the estate.  Made from 18 karat rose gold, this modern beauty features a pair of emerald cut colored stones – one green beryl and one pink kunzite.  Like it's previous owner, this ring is classically beautiful.  The bold lines and soft color speak for themselves – no additional ornamentation or decoration needed.  Priced at $3000 – this ring is our Prima Ballerina.  Don't miss these incredible finds – available exclusively at Joden Jewelers. 
"You can go to a museum and look, or you can come to us and touch."
Written by Carrie Martin
Photos by Shelly Isacco