Joden Girl
Baubles, Bling, and Fancy Things
Recently, I stumbled upon a quote that really resounded with me…  it's circulated on Facebook numerous times and I'm sure you've seen it, heard it, and read it for yourself, but the sentiment bears repeating.  Here's a link for the entire text, the crux of it is this… 
"You are not everyone's cup of tea.  And that's okay."
Jewelry is very much the same…  it comes in all shapes and sizes.  Styles range from classic and traditional to wildly over the top.  Here at Joden, I often hear "It's just too much!" – and they aren't referring to the price!  My job is all about personalities and finding the perfect match between the client and the piece. 
If you're like me, and people often refer to you as "too much"…  then this ring is for you.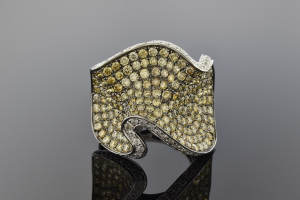 The wide pave ribbon of diamonds is stunning.  Crafted from 18 karat white gold and set edge to edge with nearly five carats of yellow and white diamonds, it makes a bold statement.  This ring will not sit quietly on your finger – it screams "Look at me!"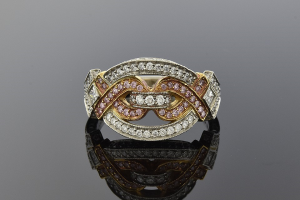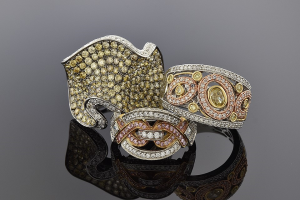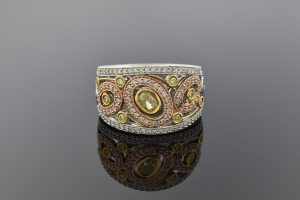 Here, we're showing it with an intricate duo of colored diamond bands.   Multicolor gold has been set with pink, yellow, and white diamonds to perfection.  Their non-traditional style is entirely unique…  just like the women who will wear them. 
If "too much" is just right for you, come to Joden where nothing is ordinary and everything is extraordinary. 
Click on our newsletter link and have Joden Girl delivered straight to your inbox!