Joden Girl
Baubles, Bling and the Latest Things
At first sight, many may not know what this gemstone is – some might even suspect that it isn't a genuine stone.  Pale pink in color, this fair beauty has occasionally been referred to as an American stone because is was first discovered in California.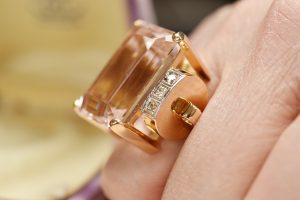 A little-known variety of the mineral Spodumene, this pastel gem was discovered by George Frederick Kunz in 1902.  One year later in 1903, it was officially dubbed kunzite in honor of its founder.  Kunz had been a rock hound since early childhood.  He began working for Tiffany & Co. in 1879.  By the age of just 23, he had risen through the ranks to become the Vice President of Gemology for the iconic company – a position he held until his death in 1932.  
Showcased within an 18-karat rose gold ring, this emerald-cut kunzite weighs approximately 40 carats.  It is not uncommon to find this gem in large sizes.  In fact, kunzite crystals have been discovered that are over 40 feet long and 5 feet wide!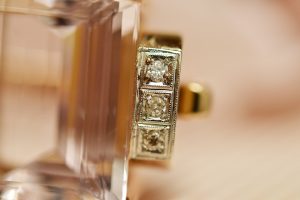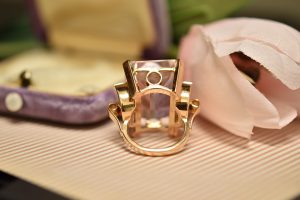 This Retro ring highlights the soft hue of the gem to perfection.  Flanking the large center stone are six single-cut diamonds.  Each one, set within a square setting, is stacked in a horizontal trio.  These diamonds have a combined weight of .35 carat – just a hint of sparkle.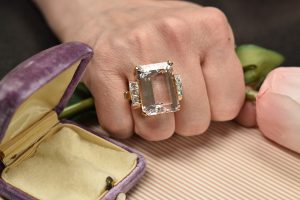 Shown on the hand, the ring reaches from knuckle to knuckle.  It's impressive in size but soft and understated in style and color.  Perfect for spring, pair this natural beauty with your favorite oversized sweater for on-trend statement appeal.  Moderately priced at $3,380.00, this ring is available in our store now.
"You can go to a museum and look, or come to us and touch."
Written by Carrie Martin
Photos by Dana Jerpe