Joden Girl
Baubles and Bling with Unbelievable Pricing
This sweet little treat was highlighted in our holiday gift guide for 2019.  Made in a subtle three-stone style, it has all the earmarks of a quick-seller –
All aglow with the shine of 14 karat rose gold, this is a true beauty.
Delicate styling (including three tiny halos) makes this gem perfect for any hand.
A classic round brilliant diamond sits center stage, bringing the bling to this ring.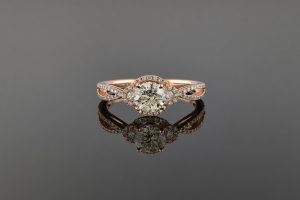 I have to wonder…  why hasn't it sold?  Perhaps you're thinking it's the color of the metal.  Just a couple of years ago, I might have agreed with you.  I was certain that rose gold was going to be a passing fancy, a trend.  There have only been a handful of times in jewelry history where this pink-hued metal reigned supreme.  Admittedly, not every customer who comes through the door is looking for it, however rose gold is still a very popular request here at Joden.  
Maybe your guess is that it's the design.  Typically, I am not a halo girl – but there's something about this ring.  It's so charming!  Often halos seem to swallow up the center stone, detracting from it's inherent beauty.  But in this case, those dainty diamond circles add just a touch of sparkle in all the right places – they enhance that .71 carat round brilliant diamond to perfection.
All of this has me thinking that the only possible reason that this ring hasn't sold must be the price!  It's been certified by the International Gemological Institute of America, declaring the retail replacement value to be $6,125.00.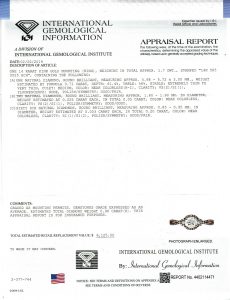 Let's crunch the numbers –
International Gemological Institute of America Value:  $6,125.00
Original Joden Price:  $4,590.00
Pick of the Week Price:  $3,750.00
Hop on over to our website and check it out for yourself.  With the new unbelievable pricing, this enchantress won't last long!
"Go to our site and look, then come to Joden and touch."
Written by Carrie Martin
Photos by Dana Jerpe