Joden Girl
Baubles, Bling, and A Collector's Things
Just like your little black dress, these earrings will quickly become your go-to favorites.  Their timeless style is the perfect complement to everything in your wardrobe.  Wear them to the coffee shop in the morning, leave them on through your workday…  and for your night out, these earrings won't disappoint!  You'll never take them off.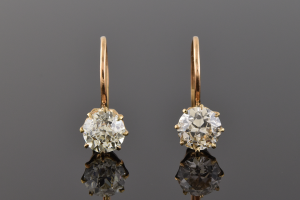 Made from 14 karat rosy gold near the turn of the 19th century, these eight-prong settings are the ideal choice for a dynamite pair of dazzling Old European Cut diamonds.  The two stones have a combined weight of 1.52 carats.  These Euros exhibit everything you want in an older cut stone…  a high crown, a small table, and an open culet.  Their inner fire is absolutely mesmerizing.  It's easy to see how these beauties landed in Joe's Special Box.  They're a steal at $3300!
Go to our site and look, then come to Joden and touch.
Written by Carrie Martin
Photos by Shelly Isacco