Joden Girl
Baubles, Bling, and The Latest Things
I can just hear Stevie Wonder crooning…  "Isn't she lovely?  Isn't she wonderful?"  This latest edition to our estate department is both of those things.  Crafted near the turn of the century in the early 1900's, this Edwardian dream is a vision of 14 karat yellow gold with a platinum top.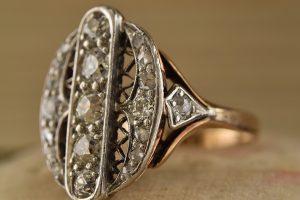 With an elongated shape, it flatters and lengthens the finger.  Shown up close, you can see the intricate details that created the overall ambiance of the ring.  Delicate wires spiderweb between the rectangular center and the sculpted sides.  A kite-shaped accent nestles into the opening of the split shank.  
A combination of Old European and rose cut diamonds add a dazzling array of sparkle.  Glittering from every angle are twenty-one diamonds with a combined weight of nearly .75 carat.  
From behind, you can see the beauty of the open wire work as well as the cut-outs on the edge.  New to our site, this gem is moderately priced at $2,450.00.  Check it out for yourself!
"You can go to a museum and look, or come to us and touch."
Written by Carrie Martin
Photos by Dana Jerpe