Joden Girl
Baubles, Bling, and A Collector's Things
Do you love giving and receiving jewelry but aren't sure what to get?  For the next three weeks, we are sharing our Holiday Gift Guide.  Every piece will be listed on our site.  This week's theme is rose gold – this caché of treasures is loaded with gift worthy items including these two beauties from Joe's Special Box.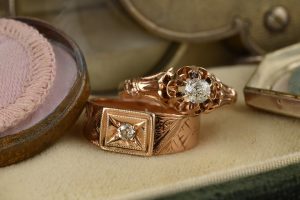 This pair of Victorian rings have some striking similarities.  Each one was made near the end of the 19th century, approximately 1885.  They both feature artfully engraved patterns that are accented with tiny beaded edges and they both have diamond centers. 
Fourteen karat rosy gold has been hand sculpted into this beautifully feminine solitaire diamond ring.  Six claw-style prongs hold the .25 carat Old European Cut diamond in place.  Trumpet belled shoulders fade into a delicately etched shank.  This super sweet gem would make an ideal engagement ring – it's available now for $675.00.
Also crafted from 14 karat rosy gold, this unisex band ring showcases textural patterns on the shoulders.  A botanical vibe combines with linear patterning to create a unique find.  Add in a tiny diamond center, and it's absolute perfection.  Someone on your list would love this antique beauty for just $240.00
Tune in every Monday and Friday to see what else pops up on the Joden Gift Guide!  Who needs elves when you have us?  
"Go to our site and look, then come to Joden and touch."
Written by Carrie Martin
Photos by Dana Jerpe