Joden Girl
Baubles, Bling and Modern Rings
These days, anything goes with wedding bands.  The choices are eclectic and varied – everything from classic to contemporary with a bit of whimsy thrown in for fun.  I love the challenge of helping each couple find the pair of bands that speaks to them.  It's the only tangible evidence of the commitment they're about to make – as such, these rings should be the perfect combination of beauty and function.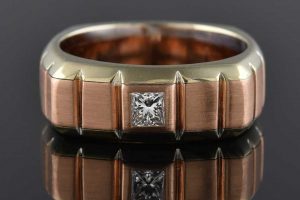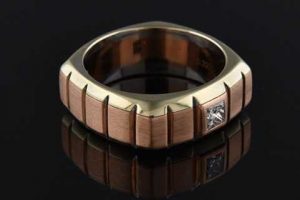 One of our newest pieces in the estate department is this ultra modern gents band.  Made from a subtle combination of 14 karat white and rose gold, this ring is sleek and sophisticated.  The outer perimeter creates a gently rounded square that has been accented by a series of parallel grooves.  The white gold edges feature a high polish finish, while the rose gold center has a satin sheen.    One shining diamond accents the ring, a princess cut weighing exactly .32 carats.  Moderately priced at $1,275 – this is one handsome wedding band!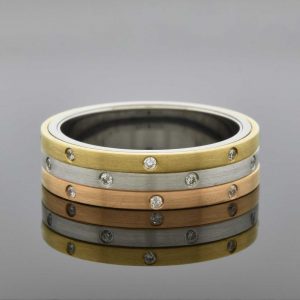 Once I had the men's band in my hand, I began the search for the ideal complement to it.  I wanted something equally as elegant, and I think I found the perfect choice!  Made from a colorful trio of 18 karat gold, this contemporary gem is a real find!  It, too is part of our estate collection.  Would you ever guess that those three bands spin?  They do!  Each one turns independently, creating what just might be the best fidget spinner ever!  Twenty-four round brilliant diamonds add a quarter carat of sparkle to this Oh-So-Cool ring.  It's available on our website for just $1,550.
If you and your significant other are searching for wedding bands, consider an estate piece from Joden Jewelers.  You won't be disappointed.  
"You can go to a museum and look, or come to us and touch."
Written by Carrie Martin
Photos by Dana Jerpe