Joden Girl
Baubles, Bling, and Rejuvenated Things
Four months…  that's how long it's been since I sat down to share a story, a treasure, or a lovely little trinket with you.  I'm excited to be back – I feel rejuvenated! 
In business and in life, a new year often inspires (or requires) us to do inventory – whether it be a mental accounting of our own day to day habits or an actual itemization of our assets and possessions.  Joden is no exception.  The month of January (and often February) has us going over every single piece of jewelry…  Every.  Single.  Piece.
The most mundane part – the absolute worst part – of inventory is writing new tags.  Those tiny gold tags that are attached to each item.  I hate writing tags.  A lot.  I prolong it.  I ask my coworkers to write them for me.  Anything for a distraction.  My favorite form of procrastination is trying on jewels – especially rings!  I like to stack them on my left hand so that I can admire them while writing those darn little tags! 
That's exactly how I discovered these beauties.  I was digging through a tray of vintage rings (not writing tags!) and there they were.  Just waiting for me.  Imagine this pile of rose gold goodness stacked on each finger, three or four rings high – maybe a midi band (a charming little ring worn between your top two knuckles) or two… Victorian treasures too good to resist!  These antique bands were all the rage during the 1880's and 1890's.  Sometimes referred to as "Cigar Bands", they feature deeply engraved patterns in an eclectic mix of styles.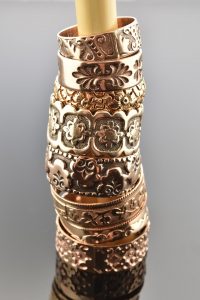 There are flowers and leaves, tiny four-leaf clovers, lacey edges, and scrolled lines.  Some are gold-filled while others are crafted from 10 or 14 karat.  Each one is over 150 years old – some still have initials and wedding dates carefully inscribed inside.  I love them all…  especially the fourth one from the top.  It's mine.  I wear it on the middle finger of my left hand.  Its soft rosy glow is a perfect complement to the cool platinum and buttery 18 karat yellow gold of my wedding rings (shown below).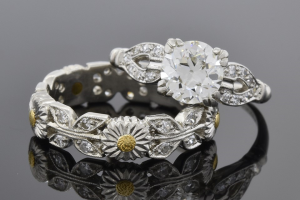 They are ideal wedding bands, right-hand rings, middle and index finger rings.  They're adorable midi rings, and perfect for everyday wear.  Each is unique with a style all its own.  Come visit me at Joden – you'll be as enchanted as I am!
"You can go to a museum and look, or come Joden and touch."
Written by Carrie Martin
Photos by Shelly Isacco