Joden Girl
Baubles, Bling, and Rosey Things
It's soft and feminine.  Youthful and happy; romantic and radiant.  It's rose gold and it has taken the world by storm.  From iPhones to earrings – everyone wants rose gold.   And whether you're a modern millenial or a vintage vamp, Joden is your hook-up.
This stylish modern suite is the perfect pairing of brilliant diamonds and satin-finished rose gold.  The earrings contain 146 diamonds that weigh .34 carats, and the pendant contains 65 diamonds that weigh .15 carats.  The earrings are available on our website for just $1100, and the pendant for just $700.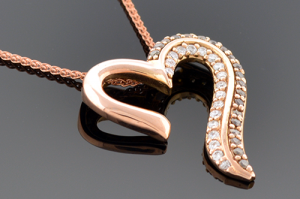 If diamonds are a girl's best friend, then chocolate is next in line.  This sweet pendant brings them together in the most perfect way.  Crafted from 14 karat rose gold, and set with 38 chocolate and white diamonds, this pendant is available on our website for a steal of a deal…  $500.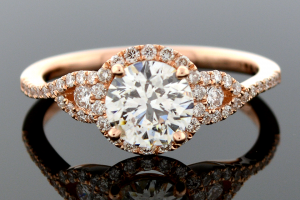 The holidays seem to bring out the romantic side in men everywhere…  Christmas Eve is the number one day to get engaged, followed closely by Christmas Day.  This stunning ring features a 1.00 carat round brilliant diamond as the center stone.  This diamond is surrounded by a swirl of 50 additional diamonds that have a combined weight of .36 carats.  It's available on our website for $8500.  Whether it be Christmas Eve or Christmas Day, any girl would say "Yes!" to this ring.
Wrapping up this rose gold extravaganza, we have a pair of  classic Victorian earrings and a whimsical Retro bracelet.  These 14 karat rose gold earrings contain 18 rose cut diamonds that have a combined weight of .60 carats.  Get them on our website today for just $1575.  Then we have this 1940's vintage bracelet featuring yellow gold circles with rose gold leaf centers.  Go to our website and finish your holiday shopping with this bracelet for only $675.
Forget the red and green, this year, Christmas is all about rose!
Don't forget that our website is available 24/7 for your holiday shopping.  We offer free overnight shipping to ensure holiday delivery.  Our showroom is open late this week (M-F from 9am-8pm) for after work shoppers; we also offer special hours on Christmas Eve!
Go to our site and look, then come to Joden and touch.
Written by Carrie Martin
Photos by Shelly Isacco