Joden Girl
Baubles, Bling and Transforming Things
As 2016 is drawing to an end, and we are on the cusp of a new year – I find myself reflecting over the past month.  The holidays are a magical time…  we gather together with family and friends, we share stories and give gifts, we celebrate, and we eat.  Everywhere you turn, there are treats both savory and sweet.  Every year, I over-indulge.  I turn into The Very Hungry Caterpillar (Eric Carle).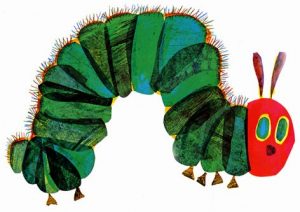 "On Saturday he ate through one piece of chocolate cake, one ice-cream cone, one pickle, one slice of Swiss cheese, one slice of salami, one lollipop, one piece of cherry pie, one sausage, one cupcake, and one slice of watermelon." 
But instead, it's more like…  She ate through one mound of cheesy potatoes, one Oreo bonbon, half a wheel of brie, a bowl of marinated mushrooms, a pile of fresh veggies, too many shrimp to count, three peanut butter buckeyes, one pepperoni ball, several snickerdoodles, and one brown sugar and cinnamon Pop Tart. 
Unfortunately, I am unable to weave myself into a cocoon and emerge as a beautiful butterfly.  But if I could, perhaps it would be one of these…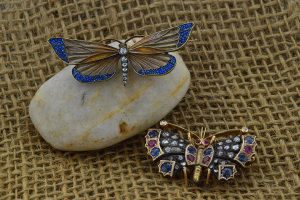 Georgian or Art Nouveau, each of these winged creatures brings a smile to my face.  And hopefully yours as well.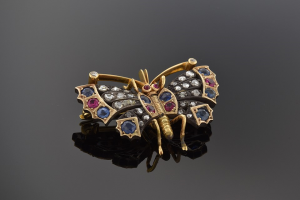 This pristine brooch was hand crafted nearly 200 years ago of yellow gold and silver, set with old cut rubies and sapphires, and accented by rose cut diamonds.  I love everything about it – from the wirey golden legs to the tips of the antennae – it's a steal at just $1500.00.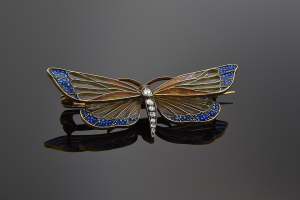 This is Art Nouveau at it's finest.  Made like a stained glass window, the gold framework of this butterfly brooch has been filled with irridescent transparent enamel; reflecting multicolor tones of amber, peach, and orange.  This technique is known as Plique A´ Jour.  The tips of each wing feature vibrant blue enamel with glittery flecks to further enhance its beauty.  Seven rose cut diamonds form the body, completing the piece to perfection. 
Butterflies have long been symbols of change, hope, and life.  I can't think of a better way to end 2016.
"Go to our site and look, then come to Joden and touch."
Written by Carrie Martin
Photos by Shelly Isacco