Joden Girl
Baubles, Bling, and A Collector's Things
A symbol of change and transformation, the butterfly has been the subject of multiple art forms for centuries…  including these pieces from Van Gogh, Picasso, and Warhol, respectively.  Each one has inspired millions of people worldwide and is beautiful in its own rite.  
Not only did this powerful representation of life influence painters, but also master craftsmen and jewelry firms like Shreve and Co. – the maker of this butterfly pin.  This delicate Edwardian brooch is the latest acquisition at Joden.  Made in classic Edwardian style (a yellow gold base with a layer of platinum on top) and set with thirty-five glistening Old Mine Cut diamonds, this tiny temptress has bewitched me.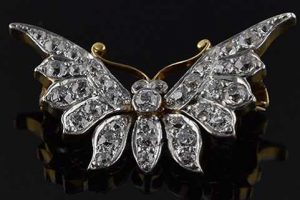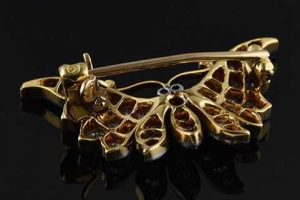 Measuring just one inch from wing tip to wing tip, I love everything about it.  It's size makes it so versatile – pin it to a scarf or a collar, perhaps to the cuff of your sleeve, or add it to the shoulder of any jacket for lifelike appeal.  It is sure to enchant anyone who sees it.  Moderately priced at $3980 – I bet you can guess where to find it!  That's right, it lives in Joe's Special Box…  at least for now.  
You can go to a museum and look or come to us and touch.
Written by Carrie Martin
Photos by Dana Jerpe