Joden Girl
Baubles, Bling and Edwardian Elegance
Whether you call it Edwardian or perhaps Belle Epoque, this ring is the epitome of elegance.  Measuring nearly an inch in length, it almost reaches from knuckle to knuckle on my hand.  The delicate shank is formed from a pair of 14 karat yellow gold wires… nestled together to form the band, then splitting to create a "Y" on each side of the ring.  Both arms of the "Y" are joined to the intricate frame that outlines the base of the design.  
A small kite-shaped segment lies within those arms, the apex of it forging a bond with the parallel borders of the lacy structure.  The overall shape of the ring reminds me of a stained glass window, although the only color in this window is the crisp white platinum top layer and the warm yellow gold frame.  It's classic Edwardian at it's absolute finest.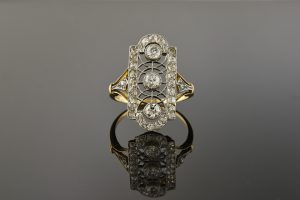 Three bezel set Old Mine Cut diamonds create a line of vertical stations down the center of the ring.  These sparklers are ringed with concentric platinum wire circles.  The elongated outline is hand set with thirty additional Old Mine Cut diamonds – 1.00 carat in all.  It's breathtakingly beautiful; striking the perfect balance between a bold size and incredibly fine detail.  
The Edwardian era is the shortest period in jewelry beginning in 1901 and culminating with the end of Edward VII's reign in 1910.  In just nine years, artisans produced some of the most iconic jewelry of the 20th century.  This gem is no exception, priced at $3,250.00 – it's available on our site now.  You don't have to take my word for it, check it out for yourself.
"Go to our site and look, then come to Joden and touch."
Written by Carrie Martin
Photos by Dana Jerpe