Joden Girl
Baubles, Bling, and Illuminated Things
"In nature, light creates the color."  – Hans Hoffman
Plique à Jour…  this French phrase loosely translates to "let the daylight in".  In jewelry, it refers to a style of enameling akin to stained glass….  and like a finely stained glass window, it comes alive when you hold it up to the light.  The framework seems to disappear, leaving a shimmering rainbow glow. 
This piece has laid on the shelf behind Joe's desk since the day he bought it… somehow it has managed to avoid being placed in with the regular inventory.  It's been passed over 100 times or more – maybe even forgotten.  I think it's because when it lays on the shelf, it doesn't look like much.  Just metal and glass.  But the moment you pick it up and hold it to the light…  that's when the magic happens.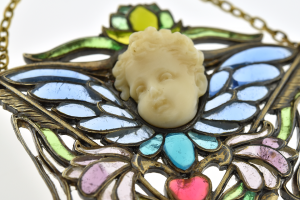 It's a complete metamorphosis.  My eyes hardly know where to look first…  the blue, green, and purple hues are completely captivating.  Suddenly, I wanted to see more.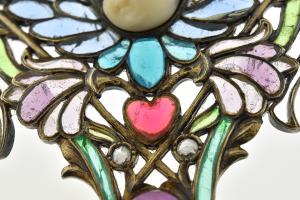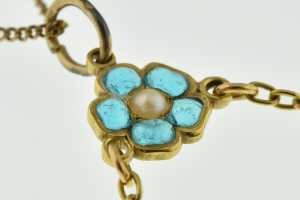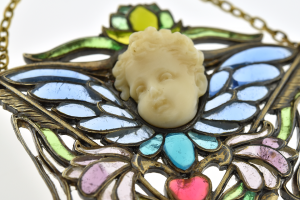 Symbolism abounds in this early Art Nouveau creation, and it's all about an awakening – a resurgence of life…  Did you see the lotus blossom at the top?  The lotus has long been a symbol of spiritual enlightenment and rebirth.  Every night this resilient flower submerges itself beneath murky waters only to re-bloom the next morning without a single drop of residue on its petals, completely immaculate.
Now, feast your eyes on the brilliant blue butterfly at the center of the piece – perhaps a Blue Morpho.  Butterflies are thought to exemplify endurance, change, and hope.  They are the ultimate symbol of resurrection.  Notice that the face of the butterfly is a cherub.  Cherubs are thought to keep vigil over those in need of strength, faith, and renewal.  The hidden meaning knows no bounds.
Holding it to the light, I am bewitched…  and when it rests in my hand, I am beguiled and bewildered.  First, bewitched by the vast array of color (i.e. remember your first box of 64 Crayola's?); then beguiled and bewildered by the complexity of the mind that was not only able to dream of this artistry, but also bring it to life.  
Call for special pricing and availability.
Written by Carrie Martin
Photos by Shelly Isacco