Joden Girl
Baubles, Bling and Resurrected Things
This week, Holy Week, children all around the world will be decorating eggs.  These eggs will be dyed and painted.  Some will have names and pictures drawn with crayon while others will have a brightly colored array of stickers on them.  Little boys and girls will carefully tuck them into baskets filled with grass; anxiously awaiting that special someone…  Jesus.  
But Easter eggs aren't just for coloring and eating.  This age old symbol of new life and rebirth has been used to celebrate this joyous holiday for hundreds of years.  The hard shell is thought to represent the sealed tomb where the body of Jesus was laid after the crucifixion.  The breaking of that shell symbolizes the opening of the tomb and the resurrection of Christ.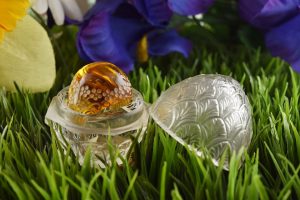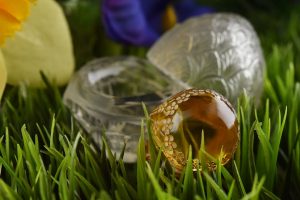 I couldn't think of a more appropriate piece to share with you today than this sweet little glass egg.  This incredibly rare piece is a favorite of Joe's.  When I asked him about it, he said it's the only one he ever saw.  He feels it's probably French and dates back to the Art Nouveau period.  The outer shell separates into two halves, a base and a lid.  The surface is etched with a leaf-like pattern.  When the lid is lifted, this amber colored center is revealed.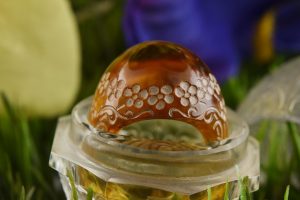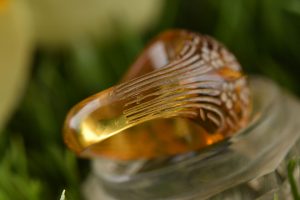 It's a ring!  A lovely golden colored glass ring!  It features a high rounded top with a pattern of white enameled flowered cut into the surface.  These five-petaled blossoms encircle the top, with their stems vining down the shoulders.  It's absolutely enchanting.  This diminutive beauty is a size 5.25 and much like Cinderella's slipper, it must be a perfect fit – available now for $680.00.  
Jesus said to her "I am the resurrection and the life.  He who believes in me will live, even though he dies;
and whoever lives and believes in me will never die.  Do you believe this?"  -John 11:25  
♥♥♥♥♥
Written by Carrie Martin
Photos by Dana Jerpe