Joden Girl
Baubles and Bling with Unbelievable Pricing
Number thirteen…  lucky or not?  We say yes!  What could be luckier than a smoking deal on a beautiful piece of jewelry?  For week number thirteen, we chose a classic pair of Victorian diamond earrings.  Every great wardrobe is built on timeless foundation garments like the perfect little black dress.  Your jewelry collection is no different – there are certain items that are a must!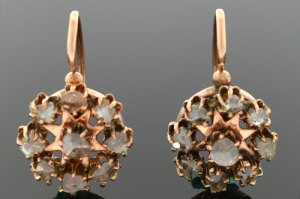 Made from 10 karat rosy gold, these earrings will quickly become your favorites.  The design features an eight-pointed star in the middle.  A primitive rose cut diamond is prong-set in the center of each earring and a halo of eight additional rose cuts creates the outer edge.  These eighteen diamonds have a combined weight of .40 carat.  
Perhaps the most intriguing mechanical detail of these beauties is the closure.  At first glance, they appear to be made in leverback style – however, the earwire actually threads through the back of the ear and clasps in the front.  The small notch on the end of the wire snaps snugly in place, allowing the earring to hang jauntily at the base of the lobe.
The light twinkles off each facet of the rose cut diamonds.  This hint of sparkle is subtle enough for daily wear and adds to the charming character of the earrings.  
Originally priced at $1,575.00 – these Victorian darlings are now available for just $1,180.00!  That works out to be just over $65 per diamond – what a bargain!  Take advantage of our Pick of the Week pricing and make these yours today.
"You can go to our site and look, then come to Joden and touch."
Written by Carrie Martin
Photos by Dana Jerpe and Shelly Isacco