Joden Girl
Baubles, Bling and Pink Things
October is breast cancer awareness month.  Pink has become so much more than just a color.  It's a battle cry and quiet reverence at the same time.  Many survivors and family members proudly wear this pale hue.  It's a celebration of the lives saved and a way of honoring those that we've lost.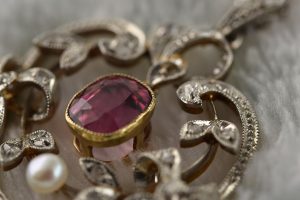 Made at the turn of the 20th century, this Edwardian beauty brings the pink with an elegant flair.  This short era (1901-1910) marked by the reign of King Edward VII represents one of the most iconic looks in jewelry history.  Early pieces, like this one, were entirely hand-fabricated.  Each swirl and curved line was individually cut, rolled and assembled.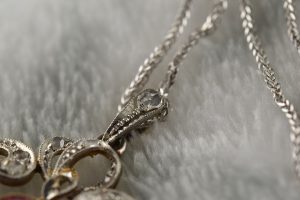 A base of yellow gold was used as a vehicle to introduce a new and initially under-valued metal into the market – platinum.  The value of gold was widely accepted – but platinum was unknown.  The combination of the two, layered one on top of the other proved to be an unbeatable combination.  Close inspection of this delicate pendant reveals a special kind of patina.  The artisan utilized yellow gold based solder to weld each piece together.  Over time, those solder joints have yellowed providing provenance and authenticating it as a true antique. 
A stylized heart shape is constructed from botanical branches featuring tiny leaves and a pair of triple-looped bows.  Primitive rose cut diamonds catch the light with just a hint of sparkle and one small natural pearl is fitted to the lower portion.  A duo of pink zircons provide a pop of color in an otherwise monochromatic theme.  Each of these stones is set within a yellow gold bezel.  Milgrain beaded edges finish the overall look with classic Edwardian style.  Moderately priced at $2,550, this utterly feminine jewel will delight anyone lucky enough to wear it.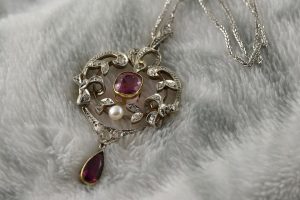 Honor someone special in your life with this antique gem available exclusively at Joden.
"You can go to a museum and look, or come to us and touch."
Written by Carrie Martin
Photos by Dana Jerpe