Joden Girl
Baubles, Bling and the Latest Things
Just last week, we shared this sapphire ring, and you guys went crazy for it.  Made in the early 1940's, it offers elements of both the Art Deco and Retro eras.  Because you loved the ring, we couldn't resist sharing these earrings.  Made in the same time period, they pair perfectly with the ring.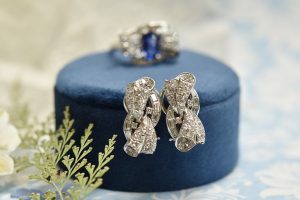 Made from 14-karat white gold with fold-over backs, these beauties clasp snugly on the ear and stay where you put them!  You could Foxtrot the night away without a single worry.  Shaped to resemble a knotted bow, these dazzling darlings measure approximately .75 inches from the top to the bottom.  Bringing the bling are fifty-two round single-cut diamonds.  This cut utilizes just seventeen facets instead of the traditional fifty-eight.  They have a decidedly vintage feel and were widely used during the 19th and early 20th centuries.  These fifty -two sparklers have a combined weight of 1.75 carats.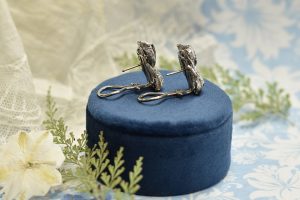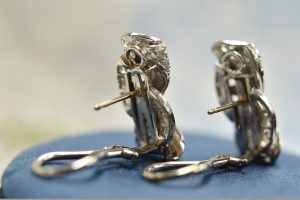 Hinting at the Art Deco influence, there are also twelve baguette diamonds.  These step-cut rectangular stones form arches on the outer sides of the bow and have a combined weight of .50 carat bringing the total diamond weight to 2.25 carats!  The entire surface is decked out with gems; they glitter from every angle.  Much like the sapphire ring from last week, these earrings offer a lot of look for their size.  Shown on the ear, they're very wearable.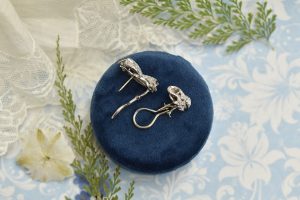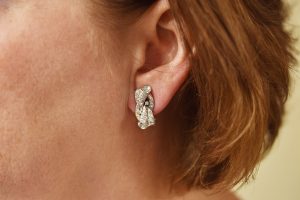 Reasonably priced at $2,150.00, they're the latest addition to our antique & estate department.  You won't find them on our website – they're only available in the store.  Stop by and check them out for yourself.
"You can go to a museum and look or come to us and touch."
Written by Carrie Martin
Photos by Dana Jerpe