Joden Girl
Baubles, Bling and Two Little Rings
There is no more perfect gift than jewelry.  From silver hoops to diamond rings, pretty little baubles bring ear to ear smiles – sometimes even tears.  Jewelry is personal…  it takes time and consideration to select just the right piece.  It's an absolute pleasure to play a small part in each one of these experiences.  
In recent years, we have noticed a strong trend in the market…  guests are shopping for themselves.  Women are buying earrings, necklaces and right-hand rings.  Our customers avidly check our website for new arrivals.  They send us messages on Instagram and Facebook, asking questions about each treasure we post.  Ladies come in often to see our latest finds and conversions.  Jewelry has become a gift that you give yourself.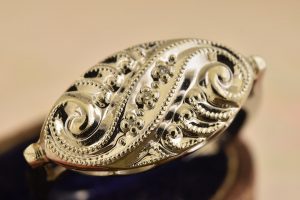 In the jewelry world, we always say that we sell what we love.  Dana and I have proven that to be true time and again.  We are constantly on the lookout for our next obsession.  For the last couple of weeks, this sweet Mid Century Modern ring has been talking to me.  When I brought it to Dana to photograph, she mentioned that she had been drawn to it as well.  We have a winner!  Made in the 1950's from 14 karat white gold, it combines bold swirls with tiny beaded trim and the smallest hint of sparkle.  I love the east/west orientation of the oval shape, it adds a contemporary spin.  Priced at just $250.00, it offers a big look for smaller budgets.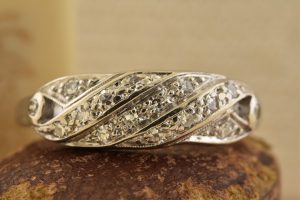 This ring, also made in the 1950's, is every bit as appealing as the first one.  Even though it's vintage, it's new to us.  It, too, rocks that east/west vibe.  I love the three diagonal diamond rows that form the top of the band.  Set with a series of sixteen single-cut diamonds, this ring has .30 carat of bling.  My favorite detail are those two tiny triangular windows…  they open up the design, allowing  just a peep of skin to show through.  This 14 karat white gold gem is available now for just $675.00.
These Mid Century beauties are just SO good.  If you've never purchased a piece of jewelry for yourself, these are two prime candidates.  I know which one my favorite is…  but tell me which would you buy for yourself?  Are you crazy over this budget-friendly charmer for only $250 or would you prefer that diamond dazzler for $675?  This or that?
"You can go to a museum and look or come to us and touch."
Written by Carrie Martin
Photos by Dana Jerpe