Joden Girl
Baubles, Bling and Out of the Ordinary Things
Quarantine has me doing some things I would never have thought I would do.  The hubs and I have been shopping online for a new sofa.  You cannot purchase a couch without sitting on it, checking the comfort factor and feeling the fabric.  You just can't.  And yet, here we are.  
We made it through exactly three episodes of The Tiger King – and for me, even that was excruciating.  I found myself nodding off many times.  It just isn't my kind of show.  However, as the days go on…  we may have to endure another round or two.
Perhaps you were throwing around the idea of getting engaged before the world turned upside down.  Now you find yourself wondering when Joden Jewelers will open so that you can come in to select the perfect ring.  While I don't know the answer to that question…  I do have the ring!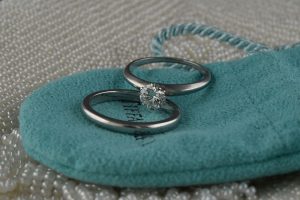 Check out this little gem…  a platinum six-prong diamond solitaire.  Inscribed inside are the magic words – "Tiffany & Co".  What girl hasn't dreamed of opening that blue box (Yes, of course, we have THE box!)?  Nestled inside is this beauty featuring a bright white half carat round diamond center.  It's a classic.  Priced right at $2,250.00 – it's also within your reach!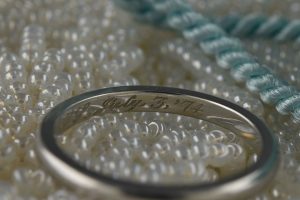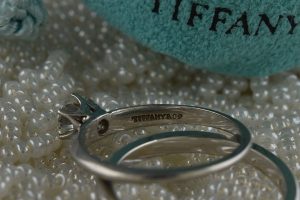 Here's the BEST part.  It's still paired with it's original mate – a simple band.  Like the engagement ring, this band  also has words inscribed inside; but it isn't a brand.  It's a date… "July 3, '74".  Not antique – but definitely vintage perfection.  This tiny bit of heaven is priced at $600.00.  
Two months ago, buying an engagement ring online was probably inconceivable.  I'm sure you had a plan, and I'm sure it was a good plan.  But times have changed.  And this ring is just too good to pass up.  Call us today at 800-747-7552 to make it yours.  
Stay safe and healthy, my friends.  Shop from home.
Written by Carrie Martin
Photos by Dana Jerpe